Vegetable & Pearl Barley Filo Pot Pies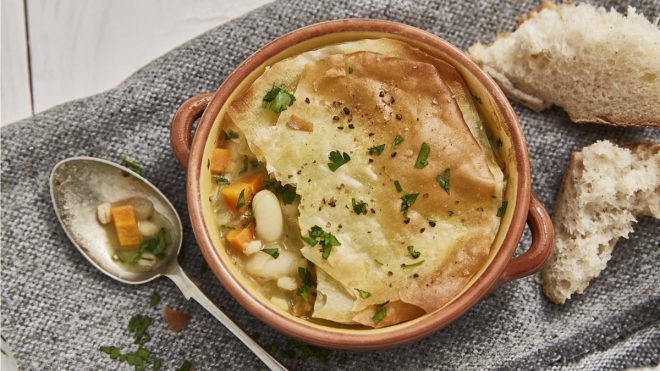 4 servings
1 hour to prepare
Ingredients
1 large onion, finely diced
2 celery stalks, finely diced
2 carrots, finely diced
100g button mushrooms, sliced
50g flour
100ml white wine
400ml vegetable stock
100g pearl barley
1 tin white cooked beans
8 sheets filo pastry
1/2 bunch parsley, finely chopped
Olive oil
Instructions
You will need four individual pie dishes or ramekins for this recipe, or one large pie dish.
Heat 1tbsp of olive oil in a large pan over medium heat. Sauté the onion, carrots, celery and mushrooms until tender, stirring frequently, for about 6 to 8 minutes.
Whisk the flour into the vegetables then add the white wine and keep whisking until smooth. Cook until almost all of the wine has evaporated, and add the stock. Bring to the boil then add the barley and beans. Reduce to a medium heat and stir until slightly thickened.
Once thickened, remove from the heat, stir in the parsley and allow to cool slightly.
Preheat the oven to 180°c / 350°f / gas mark 4. Using your pie dishes as a guide cut out 4 lids from filo pastry, you'll need a few layers for each pie; we'd recommend at least 2. Cover the cut pastry with a clean, damp tea towel to prevent it drying out.
Spoon the filling into 4 pie dishes. Brush each cut sheet of pastry with oil and place on top of the filled pie dishes. Cut vents into the tops and sprinkle with sea salt and parsley.
Pop the pie dishes onto a baking sheet and bake until the tops are golden and the filling is bubbling, about 30 minutes. Let cool slightly before serving.