Veggie Packed Pizza with Mozzarella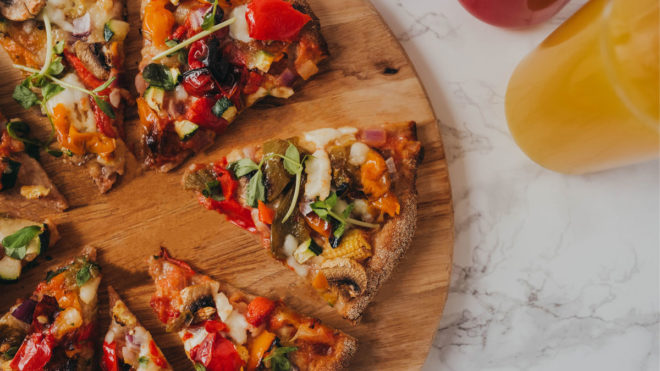 2 servings
20 minutes to prepare
Ingredients
1 ball Northern Do Co Original Pizza Dough, defrosted (find it in the frozen aisle)
1tbsp tomato passata
3 mushrooms, sliced
1/2 red pepper, roasted
1/2 green pepper, roasted
1/2 yellow pepper, roasted
3 baby sweetcorn cobs
1/3 courgette, diced
1/4 red onion, diced
2 handfuls Booths grated mozzarella or vegetarian equivalent
Handful pea shoots
Instructions

The Northern Dough Co. have created a series of seasonal guest recipes for us, all focussed on bringing the family together in the kitchen and adding a pizza positivity to your winter. The Lancashire based family company make 100% natural pizza dough, which you'll find in the freezers in store.
Enter our competition to win yourself a personalised pizza party prize package courtesy of The Northern Dough Co. by tapping here.
THE COLOURFUL ONE
"When the days are short and the light is low, powering up your food with all the colours of the rainbow is sure to give you a boost. We've taken all of our favourite veggies from the abundant local varieties in Booths' produce aisle and created a recipe packed full of as much flavour as it is colour (and is ideal for using up all those little bits of veg in your fridge, feel free to flex the ingredients based on what you have available)."
Pre-heat your oven to its hottest setting, and lightly flour your worksurface, rolling pin (if using) and baking tray.
Roll or stretch your dough to approx. 10-12 inches in diameter (this will give you a classic Neapolitan style thin and crispy pizza.
Move your pizza base to the lightly floured baking tray, spread the passata across the surface, then add the veggies evenly over the top. Scatter the grated mozzarella over the top and move to the hot oven for approx. 8-10 mins.
Your pizza will be ready when the crust has turned golden brown and the toppings are bubbling. Remove from the oven and leave to cool for 3-5 mins, then sprinkle over the fresh pea shoots. Slice, share and enjoy!
Chef's Tip
As well as preventing burnt mouths, allowing the pizza to cool for a few minutes also helps the pizza topping to 'set' and means your toppings won't slide when you slice into it!