Veggie Pumpkin Traybake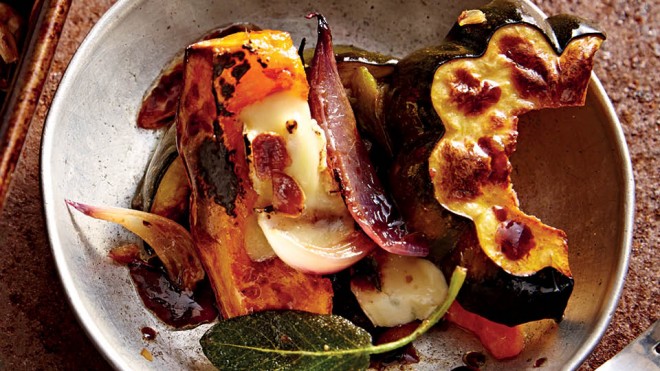 4 servings
30 Minutes to prepare
Ingredients
4 Mixed baby squash (cut into wedges, seeds removed. We love using Musquee de province pumpkins)
2 small red onions (peeled and cut into quarters)
8 garlic cloves (crushed but with the skin left on)
12 fresh sage leaves
6 sprigs fresh thyme
1 sprig fresh rosemary
150g Vegetarian friendly blue cheese, or soft creamy cheese of choice
100ml olive oil
25g flaked almonds (lightly toasted)
Pinch salt and pepper
200g cooked and peeled chestnuts
Instructions
1 First, preheat your oven to 180°C / 350°F / Gas mark 4.
2 Now, place the squash, garlic and red onions into a mixing bowl with the olive oil, salt and pepper.  Mix well and spread out over a roasting tin then place in the oven for 20 minutes.
3 Remove from the oven then throw in the chestnuts, sage, thyme and rosemary. Return to the oven for a further 5 minutes.
4 Remove the roasting tin from the oven and evenly scatter the cheese over the contents of the tin and return to the oven for another couple of minutes, until the cheese begins to melt.
5 Remove from the oven and serve immediately.
CHEF'S TIP Truffles are a classic Italian pairing with roast squash. We love elevating this dish and creating some intense aromas with the addition of a little black truffle oil just before serving.