Warm Salad of Saltmarsh Lamb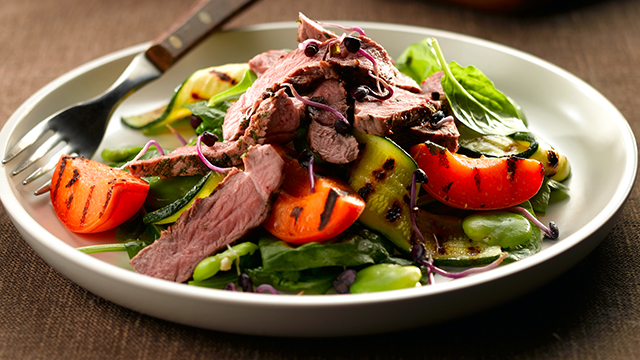 4 servings
40 mins to prepare
Ingredients
For the salad
2 handfuls fresh spinach
100g podded broad beans
1 courgette thinly sliced lengthways
2 apricots cut into ¼
50g sprouting radish
Drizzle of Booths Italian Extra Virgin Olive Oil
Drizzle balsamic vinegar
Dusting of icing sugar
For the lamb
2 Lamb Leg Steaks
2 cloves garlic sliced
1tbsp mint chopped
1tbsp oregano chopped
Salt and milled pepper to taste
Instructions
Pre-heat the griddle pan on a medium heat.
Using the point of a knife, make little slits in the lamb then push the garlic, mint and oregano into the holes and season with salt and milled pepper, leaving to marinade.
Dust the apricots with a little icing sugar. Drizzle both courgettes and apricots with olive oil, salt and pepper. Place onto the griddle pan and cook until char marks appear then remove from the pan and keep warm.
Drizzle a little olive oil over the lamb and cook on the griddle pan for 2-3 minutes on each side. Keep the lamb warm and rest for 2 minutes before slicing.
Dress the spinach, broad beans and radish sprouts with olive oil and balsamic then divide between serving plates.
Add the courgettes and the quartered apricots to the serving plates, finally adding the sliced lamb.