What is a Butter Pie?
Written on October 4th, 2017
---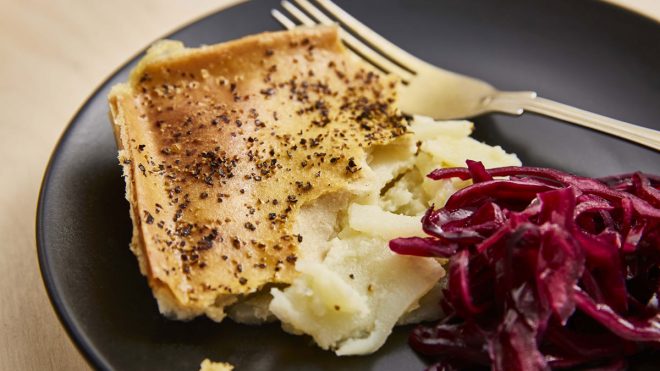 We know just how important it is to celebrate Christmas with your loved ones, and we've spent the last 170 years finding and producing the best food and drink to help you do exactly that. For six generations, we've worked with hill farmers, craft bakers, butchers, cheesemakers and fishermen, and our Christmas range is a celebration of our Northern food stars. From the Yorkshire dales to the Cumbrian fells to the distilleries of Burnley and beyond, many of our products are produced exclusively for us.
We'd love to introduce you to our first Northern star of Christmas 2017, a family-sized classic Lancashire dish: The Butter Pie. Weighing in at 1.3kg, it serves 6-8 and is just £7. A question we frequently hear from those outside of Lancashire is: "what is a butter pie?"
With a history as rich as its' filling, (like us!), butter pie is synonymous with Lancashire. Also known as Friday Pie, it was originally created by Catholics in Preston who did not eat meat on Fridays and chose to substitute their beef with butter. The humble butter pie is now a Lancashire classic, served in football grounds, pubs and in family homes across the county and Booths believes it's time to share it across the borders.
The ingredient list for butter pie is a simple one: potato, butter, onion, salt, pepper. Our butter pie is made especially for us by local bakery Clayton Park. Our Bakery Buyer Keith Parkinson said:
Picture this. Thin slices of potato ensconced in soft sweet onions and a buttery sauce, topped with crisp, peppery pastry. It might sound simple, but the best things often are. Butter pie is the ultimate comfort food, delicious served with a sharp, fruity red cabbage or a pickled walnut on a cold winter's night. Perfect for a Christmas buffet or for Boxing Day, we've been savouring this regional delicacy for centuries in Lancashire, and have decided it's time to share our Northern secret with the rest of the UK
Christmas is the time of the year when food lovers across Britain can enjoy a taste of Booths Country. Between the 4th of October and the 15th December, you can place your Christmas orders at online for nationwide delivery or collection in store, and try regional delicacies exclusive to Booths, such as corn fed Goosnargh turkey, Herdwick Lamb and this fabulous Butter Pie. Click on the button below to visit our online Christmas shop: