4 New British Breweries at Booths
Written on July 3rd, 2014
---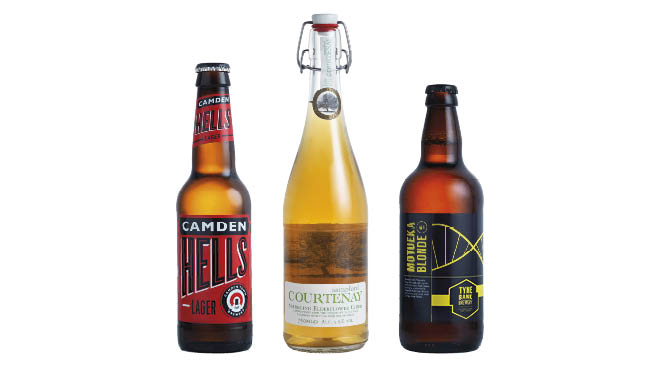 Our beer and cider festival welcomes four new British breweries to our award winning range.
The pioneering Camden Town Brewery in London started in the horseshoe pub in Hampstead, where Jasper Cuppaidge was brewing ale in the cellar and selling it in the pub upstairs. That was 2010 and things have kept growing since then. As of summer 2013, they are the first brewery in Britain to commission a micro-canning line.
But when Jasper ordered other great beers for the bar, he had to get them from much further away, with lagers coming from Germany and as far away as America. Why wasn't anyone making them in London? So Jasper decided to be the one to do it; to make the beers he really wanted to drink. The brewery needed more space so he built one of the first modern breweries in England in the railway arches in Camden. Here he developed his ideas into recipes and put his London personality into classic beer styles. Their Pale Ale 4% is packed with big hops and gives citrus and tropical fruit flavours. It has a round body with a drink-me-faster bitterness. For something clean and refreshing Camden Hells Lager 4.6% has a dry hop finish and you can taste the great depth of flavour that comes from the long, slow maturation in tank. This is how a great lager should taste! To heat it up try Camden Gentleman's Wit 4.3% bringing fragrant lemon and bergamot with a smooth, full body and a spicy finish.
Traditional cider makers Sampford Courtenay brew from their 14th century farm yard with thatched longhouse situated in the rolling Devon landscape on the southern edges of the parish of Courtenay. James and Alison McIlwraith have been involved in cider making for over 30 years each. In 2001 they planted over 40 acres of cider orchards at Solland Farm and in 2010, Matthew and Alice joined the team. The apple trees – Dabinette, Elis Bitter, Michelin, Browns and a few Bramley – are mature and fully cropping to ensure a quality supply of traditional apples each year.
All of the cider apples are grown and processed at source on the farm, producing a totally natural product, using traditional methods and ensuring a very low carbon footprint. The business has been slowly matured (like all good traditional skills and products) and now boasts a full range of artisanal products, many of which are inspired and sourced from the hedgerows on the farm. Sampford Traditional Devon Cider 5.5% is a mellow amber cider that is slightly sweet with a wonderful apple taste. It has plenty of tannin, which has been softened by aging and complements the sweetness to give a full 'old fashioned' character to delights your taste buds. To capture the essence of summer in a glass try their Sparkling Elderflower Cider 5.5%. The delicate aromatic nose of elderflower greets you as you take the first sip. This is swiftly followed by the subtle smooth taste of elderflower blended delightfully with a lighter cider. The fine white flowers of the elderflower are gathered by hand from hedgerows and steeped in spring water to produce elderflower syrup, which is then added to fresh apple cider.
The contemporary Harbour Brewing Co use Cornish spring water sourced from the hillside beside the brewery. They started up in early 2012 with founders Eddie Lofthouse (originally from Fulwood in Preston), and brewer Rhys Powell who shared a passion for beer and surfing. Both had the lifelong ambition of opening a brewery, in late 2011 they met in a pub in Padstow harbour and it was here they decided to take the plunge – it only seemed fit to name the brewery after the place the idea was conceived.
Eddie Lofthouse explains; "We apply a progressive and innovative approach in both beer style and brewing technique, whist honouring traditional and proven methods. Using this approach we produce a range of full flavoured, balanced and creative beers. We are committed to making beers that are contemporary and deliver an uncompromising taste experience." For a perfect session ale try Harbour Light Ale 4% it's golden in colour and dry hopped with American hops, giving elderflower and resinous notes. Harbours classic British malt driven Amber Ale 4.4% gives caramel and toffee flavours and mild floral hop notes. Their American style Pale Ale 6% gives big tropical fruit flavours with some residual sweetness and its dry hopped with Citra and Centennial.
Tyne Bank Brewery, who will be the first North East brewer to hit our shelves, formed in 2011 and true to their name they are based on the banks of the river Tyne. They strive to produce the highest quality beer using the best possible ingredients and are proud to be at the forefront of a vibrant and growing North East beer scene. They brew a core range of four ales, which are permanently available. For their monthly special they use their knowledge and expertise to produce a wide variety of ales, taking inspiration from several different beer styles from across the globe. In addition to this, they always have a dark beer available which changes with the seasons. Tyne Banks highly popular, award winning American Pale Ale Silver Dollar 4.9% features a glowing amber colour, robust malt base and west coast American hops. The solid malt backbone allows them to use more of these hops, giving a bold citrus fruit flavour and a pine character quintessential of this style of beer. The bitterness is lasting but not overpowering. Tyne Bank Motueka Blonde 4% is brewed with Motueka Hops. This pale ale starts with a biscuit malt base, leading to a wonderful tropical fruit hop flavour and the aroma ends with a crisp clean finish. For a dark and rich stout try their Cherry Stout 5.2% it has a mix of chocolate, roast and black malts. Already quite complex in flavour another level is added with a mix of both sweet and sour cherries to provide a subtle cherry background. The use of oatmeal also gives the beer an almost velvet feel as it smoothly slips down.
With these fantastic new beers and ciders you will be glad to hear Booths Cardholders receive a 10% reward when purchasing any of these new products during the Festival. In store you will also find over 100 beers and ciders on promotion at 4 for £6 and in-store sampling events taking place with a range of 10 different beers being sampled each week. You can also request to try any of our beers or ciders before you buy.