Afternoon Tea for Two? Don't mind if we do!
Written on February 1st, 2017
---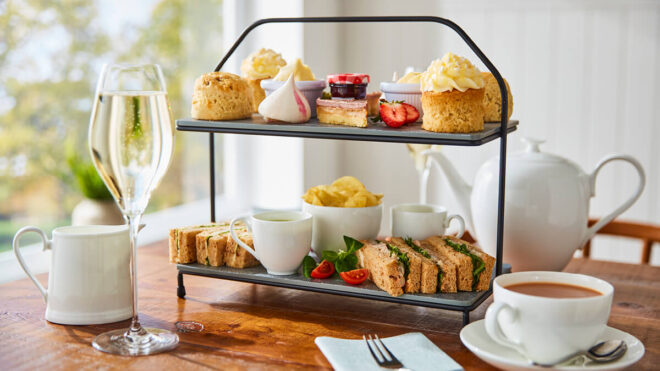 Did you know that afternoon tea is only 7 years older than Booths? It has its roots in the year 1840, invented by the seventh Duchess of Bedford to fill a gap between lunch and her evening meal.
It's now become a fashionable tradition that we proudly take part in, and so you'll find a delicious afternoon tea for two available in all of our Booths cafes. Enjoy traditional finger sandwiches filled with smoked salmon & cream cheese and egg & cress, soup of the month, Tyrell's Crisps with a salad garnish and a pot of tea for two. You can then choose from our traditional or savoury options:
Traditional – lemon and raspberry cakes, millionaire shortbreads, brownies and lemon drizzle flapjack all handmade by Studio Bakery in Lancashire, fruit scones served with butter, Rodda's Cornish clotted cream, Bonne Maman preserve and fresh strawberries.
Savoury – Cinder Hill sausage roll, Toppings apple topped pork pie, Snowdonia Green Thunder Cheese, Lathams mediterranean vegetable & goats cheese quiche, English Provender caramelised red onion chutney.
We're stuffed just thinking about it!
It's just £20 for two or £18 with your Booths card. Now, the serious question – milk or tea in the cup first?
We're sorry, but we're currently unable to cater for alternative dietary requirements.
Find your nearest store with a café to book yours: