Afternoon Tea for Two? Don't mind if we do!
Written on February 1st, 2017
---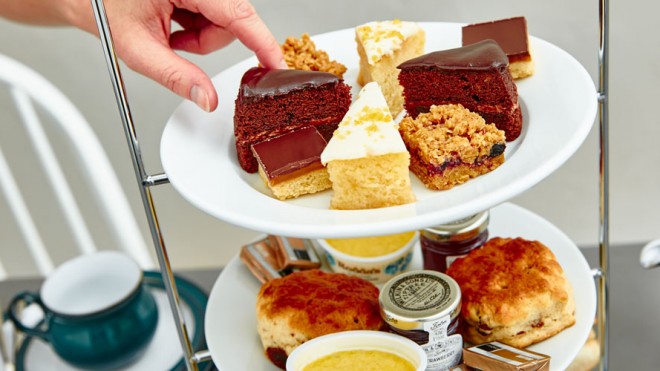 Did you know that afternoon tea is only 7 years older than Booths? It has its roots in the year 1840, invented by the seventh Duchess of Bedford to fill a gap between lunch and her evening meal.
It's now become a fashionable tradition that we proudly take part in, and so you'll find a delicious afternoon tea for two available in all of our Booths cafes. Enjoy a pot of tea for two, egg mayonnaise, tuna mayonnaise and ham sandwiches to start, followed naturally by freshly baked in store scones. Accompanied by miniature Bonne Maman jam pots, Rodda's Cornish clotted cream and butter, we'll leave it entirely up to you whether you layer the jam or the cream first. Rounded off by a selection of cakes from Lathams of Broughton: a slice of lemon cake each, a slice of chocolate cake each and two tray bake squares each – we're stuffed just thinking about it!
All served on a stylishly modern cake stand with gorgeous teal and white Denby crockery alongside; it's just £15 for two or £12.50 with your Booths card. Now, the serious question – milk or tea in the cup first?
We're sorry, but we're currently unable to cater for alternative dietary requirements.
Find your nearest store with a cafe to book yours: