An Egg – cellent £2,400 raised for Cancer Research UK
Written on March 13th, 2017
---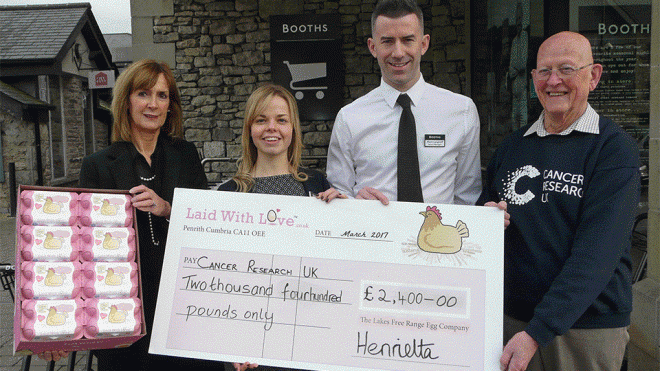 In the pink – Laid With LoveTM eggs and Booths raise more money for Cancer Research UK
A cheque for £2,400 was handed over to Cancer Research UK this week, thanks to support from The Lakes Free Range Egg Company (The Lakes) and Booths Supermarkets.
The Lakes developed a brand called Laid With LoveTM packed in bright pink boxes with a promise of a 2p donation to cancer research charities for every per dozen eggs sold. The brand was launched at the opening of the Booths store in Penrith. Since then, Laid With LoveTM eggs have been rolled out across the Booths estate and continue to accumulate donations to support cancer research. Over £10,000 has been raised through Booths stores.
Laid With Love was developed by The Lakes Free Range Egg Company (The Lakes) who wanted to establish a brand that delivers on numerous levels, from ensuring the best ethical and environmental provenance, to creating a super healthy egg with an extra yellow yolk and making a difference by supporting a cause close to consumers' hearts. Laid With LoveTM producers live on small family farms enriched with tree cover. Their hens are fed on a naturally enriched diet that includes lutein – (a marigold extract that offers real health benefits), and it's the lutein that gives the yolks a wonderful golden colour.
David Brass, Chief Executive Officer at The Lakes said
Laid With Love is a very ethical brand and has developed a loyal following. Consumers appreciate locally sourced products, they love the golden yellow yolks, and the fact we support research into cancer – something that touches most people at some point in their lives. Eggs continue to grow in popularity as part of a healthy diet – over 34 million eggs* are now eaten each day. That's very encouraging for Laid With LoveTM because research suggests consumers are more likely to switch to a brand that makes a charitable donation.
Booths Home Baking Buyer Emily Burr said
Laid With LoveTM is a great locally sourced product with the added benefit of supporting cancer research. Customers are brand loyal; they enjoy eating the eggs and welcome the fact that Laid With LoveTM eggs in their shopping basket means a contribution to a cancer charity.
Natasha Patel, Cancer Research UK Local Fundraising Manager said "Survival rates have doubled over the last 40 years and the work of Cancer Research UK has been at the heart of that progress. The donation from Laid with Love TM eggs will contribute to our research, which is helping to beat cancer sooner."
Meeting at the Kendal Booths store, Jane Wilkinson from The Lakes Free Range Egg Company, Booths Buyer Emily Burr and Kendal Store Manager Mark Langstaff handed over the latest cheque payment of £2,400 to Jim Plenderleith, Chair of Kendal's Cancer Research UK committee. It was at this presentation that Jane Wilkinson also confirmed the total raised to date in Booths was £10,000.
You can find out more about the Laid With Love brand at www.laidwithlove.co.uk