Enjoy An Award Winning Lunch from Booths
Written on May 30th, 2018
---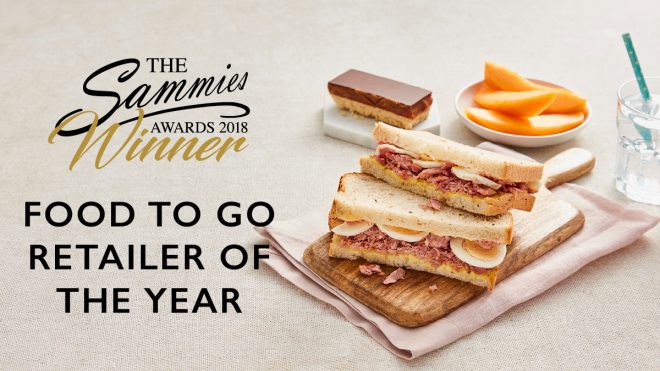 We're thrilled to say we've won Food to go "Retailer of the Year" in the 2018 British Sandwich Industry Awards, 'The Sammies,' who celebrate the very best of the sandwich and food to go industry so you can now enjoy an award winning lunch from Booths!
Head of Booths Brand, Abby Talbot said,
We have a small and dedicated product development team at Booths and we're really delighted to have done so well in these awards. We relaunched our Food to Go range last year and it's been a hit with customers, but it's brilliant to have our efforts recognised by our peers.
We revamped our Food to Go range in September 2017, introducing our popular '4 for £4' deal, where customers can mix and match four items from a wide selection, including sandwiches, salads, sushi, cakes, crisps, pop…there's something for everyone. Not only this, we've got plenty on offer from the hot counter and the deli, including fluffy jacket potatoes, hot sandwiches, pork pies and quiche. Additional seasonal specials are always a winner, with Summer's being: Lamb & Chilli Kofta, Beef & Jalapeno Burger and Pork & Chorizo Sausage Swirl Sandwich.
Included in the '4 for £4' deal is one of Booths best sellers and a finalist in the Sammies Sandwich awards, the Booths British Ham Hock & Egg With Mustard Mayonnaise On Cracked Black Pepper Bloomer. Booths created this sandwich for customers who long for an indulgent, hearty and satisfying sandwich.
We take care to source a lot of our ingredients locally. The cracked pepper bread is freshly baked, the ham hock 100% British, the eggs are free range and the mustard mayo gives it a deli fresh taste. Our teams took the basic ham and egg sarnie to the highest level of great taste and quality, a classic reinvented "Booths" style.
Tap the button to find your nearest store and treat yourself to an award winning lunch!