Award-Winning Booths Wines
Written on August 27th, 2020
---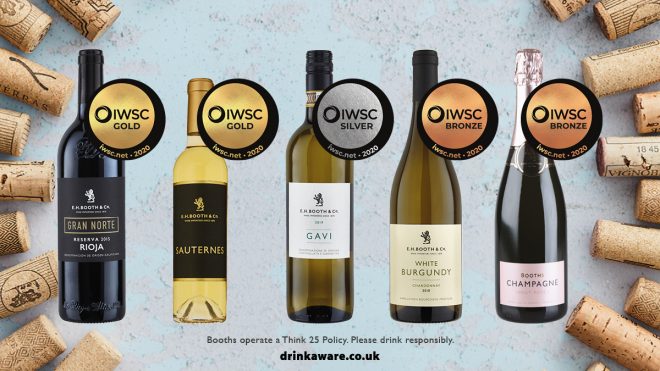 We're pleased to say a selection of our Booths wines have been awarded medals in the International Wine and Spirit Competition 2020.
Having celebrated its 50th anniversary in 2019, the IWSC remains as relevant today as it did when wine chemist Anton Massel founded the original format back in 1969. When Massel created the International Wine & Spirit Competition, his aim – as it remains to this day – was to reward excellence in drinks worldwide, ensuring recognition for the very best wines and spirits. The IWSC is proud to set the international benchmark for quality, standing out in the crowded world of drinks awards with hundreds of global experts – including buyers, producers, distillers, sommeliers, distributors and influencers – judging wines and spirits throughout the year.

Extract from IWSC website
Our Wine Buyer, Victoria Anderson said:
Booths has been importing wine since 1870 and our Booths brand wines reflect this special part of our heritage, so we're thrilled to have been recognised by such a revered competition. Our range offers our customers a selection of world class wines from renowned producers and we work closely with our suppliers to develop the blends that compete with some of the best wines in world.
Discover which Booths wines won awards and what the judges had to say below.
GOLD MEDAL WINNERS

Booths Sauternes 2017 37.5cl, £14.50
Judges' comments "Beguiling and utterly delicious, with well-defined aromas of canned pineapple, greengage and bruised apple. An excellent example of its type."
Rich and complex bouquet, with notes of citrus, apricot jam, spices and honeyed fragrances. Creamy and voluptuous palate with a long finish. Try as an apéritif with duck liver pâté, after a meal with strong blue cheese such as Roquefort or creamy desserts like crème brûlée and panna cotta.

Booths Gran Norte Rioja Reserva 2015 75cl, £13.50
Judges' comments "The harmony between oak, fruit and acidity makes a wine jam packed with intensity and ripeness."
Made from 100% Tempranillo grapes and matured for 2 years in oak barrels, this is an expressive and elegant Rioja. Medium bodied with smooth tannins, it is dominated by notes of ripe red fruit, currants and liquorice, rounded off with sweet notes of vanilla and spice.
SILVER MEDAL WINNER

Booths Gavi 2019 75cl £8.85
Judges' comments "Prettily poised fragrant nose of peach blossom, white lily, honeycomb, almonds and ripe fleshy stone fruit."
These delicate grapes produce a medium-bodied wine with a subtle but definite minerality and plentiful apple and pear aromas. Vibrant acidity and a touch of spice add character and backbone. Try it as an apéritif or with meaty fish dishes such as seared tuna steaks.
BRONZE MEDAL WINNERS

Booths Rosé Champagne Brut NV 75cl, £26.50
Judges' comments "Delicately refined with a lovely balance of ripe fruit and crisp acidity on the palate."
An abundance of red summer berries on the nose with a touch of vanilla and sweet spice. Vibrant and fresh on the palate, displaying characters of wild strawberry, redcurrant and raspberry, all marrying perfectly with a creamy and richly textured palate.

Booths White Burgundy 2018 75cl, £10.75
Judges' comments "Classic and characterful, softly structured. Subtle nose, riper lemon with minerality and well- integrated oak. "
This fruity wine has aromas of peaches and nectarines, with rich and creamy ripe fruit flavours balanced by a fresh and vibrant finish. Great on its own or paired with with roast chicken and meatier fish such as monkfish or cod.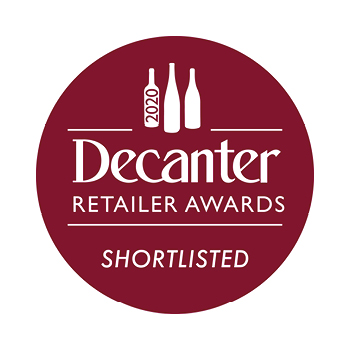 We're also pleased to say that we've been shortlisted for Decanter Wine Supermarket of the Year for the 4th consecutive year — we were runner up in 2019 and won the competition in 2017.
Discover our other award wins here.
Products and pricing correct at time of publication, subject to change. Products may be available in selected stores only. Booths operate a think 25 policy. Please drink responsibly. Updated 26/03/2021.