'Bakes From the Lakes' Fundraising Cookbook Comes to Keswick Booths
Written on February 19th, 2021
---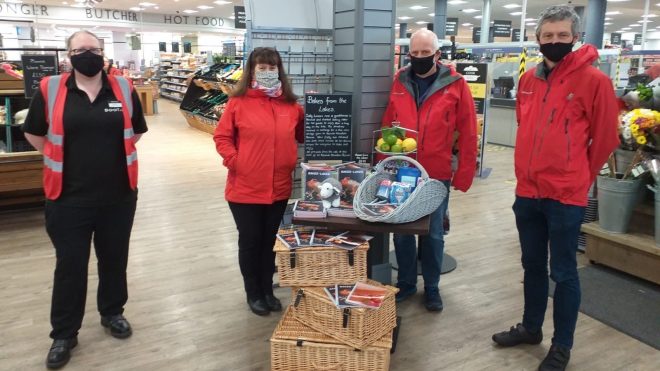 From left to right – Becca Cameron (Specialist Manager at Booths) Sally Lunson (Co owner Glencoe Guesthouse),  Andy Jones  (KMRT member), John Hunston (KMRT Treasurer)
Sally and Keith Lunson, owners of Glencoe Guesthouse, Helvellyn Street, Keswick, have received a welcome boost to the sales of their fundraising charity cookbook, 'Bakes from the Lakes,' after our Keswick store agreed to have the books on sale in store. Proceeds from sales of the cookbook are made to The Keswick Mountain Rescue Team.
'Bakes from the Lakes' (£8.99) contains 20 delicious recipes each with a full page colour photograph, plus hints and tips, with all proceeds going to the Keswick Mountain Rescue Team. Over £2500 has been raised from the sales of the books to date.
How Bakes From The Lakes Came To Be
Sally began making cakes for the guests at Glencoe Guesthouse for them to enjoy after a day's activity in and around Keswick during their stay.  In return for a slice of scrummy homemade cake, guests would leave a donation for The Keswick Mountain Rescue Team. It soon became clear that demand for the recipes was as high as demand for the cake itself. And so Sally's friends, Graphic Designer Ben Harrison and his wife Lynn, photographer, got creating the book that's on sale now. No mean feat, but after many hours of baking, photographing, designing and editing, the book was ready to go to print and the rest, as they say, is history. Sally said,
We're sad that with the guesthouse being closed at the moment means we can't raise funds for the boys and girls at KMRT through making cakes, but the book sales have meant that we can still keep the money coming in one way or another! This way as well, others are enjoying the experience of baking too!

Sally Lunson
Arrival Into Keswick Booths
Store Manager Matt Welsh has been instrumental in getting the charity fundraising book on sale in store, for which Sally and Keith are really chuffed.
Keswick Specialist Manager, Becca, who has overseen the current display said,
Keswick Mountain Rescue is a local charity very close to the hearts of all the staff here and we are delighted to be able to support them through the sales of Sally's cookbook. We are always happy to support local initiatives and charities, so this was not a difficult decision to make and we look forward to the return of visitors when restrictions are lifted to boost sales even further.

Becca Cameron, Booths Keswick Specialist Manager
Keswick Community Comes Together
In addition to Booths, other local Keswick businesses have been on board. Andrew Bezuszko from Keswick Post Office has been selling out of supplies all throughout the various lockdowns. Bookends have stocked the books, and, when allowed to be open, Alternative, Java Coffee Shop and The Card Collection have also had books for sale. 
I can't thank everyone of these local businesses enough for their support in not only raising funds for, but the profile of the Keswick Mountain Rescue Team by selling Sally's cookbook, not to mention our thanks to everyone who has bought a copy!

Keith Lunson
John Hunston, KMR Treasurer said,
In light of the recent publicity about the Patterdale MRT member, Chris Lewis, who was recently seriously injured on a call out, it goes to show how much support there is from the public for the team members and all the courageous work they do as volunteers.

John Hunston, KMRT Treasurer
Should anyone want to contribute to the JustGiving page for Chris, click here:
Chris Lewis Support Fund – Seriously Injured Patterdale Mountain Rescue Volunteer – JustGiving