Bonkers about Bramleys? It's Bramley Apple Week
Written on February 6th, 2017
---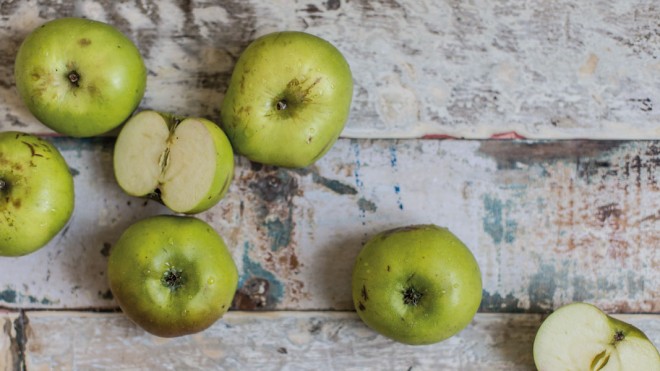 A classic British fruit that's been about since 1809; it may not be prime picking season but February hosts a week every year dedicated to the celebration of this tart British apple. Enjoy our top tips on ways to enjoy a Bramley!
When choosing Bramley apples look for a blemish free firm apple, and store in a cool dark area at home. Peel the waxy skin, core and chop according to your recipe. Bramleys keep their strong flavour when cooked and hold their shape, so they're perfect for both sweet and savoury dishes.
Apple Chips – Pre-heat the oven to 160°C/ 140°C fan/ gas mark 3. Peel, core and thinly slice the apples approximately 1mm thick. Place the apples on a metal cooling rack over a baking tray. Bake for approximately 1 hour turning the apples half way through. Allow to cool completely and store in an airtight container for up to 1 week. Perfect for snacking on the go!
Serve a twist on the classic apple pie by making a stunning Apple Rose Pie:
Peel, core and cut the apples in half. Thinly slice, toss in sugar and cinnamon and use to create a rose pattern by overlapping the slices, starting from the outer edge of your pastry case and spiralling inwards, keeping the slices tightly packed.
Add Bramleys into your mid-week meals; swap classic potato mash for celeriac and Bramley apple mash, slice raw into salads, or grate raw into bircher muesli and porridge for a tart kick.
Stew down prepped apples, then freeze in airtight containers for up to 3 months. Defrost and add a pinch of salt for apple sauce and a pinch or cinnamon, sugar to taste and a handful of raisins for a sweet apple compote.
Don't forget about using Bramley apples in juices and smoothies! Their tart flavour work well as a zingy wake up perfect for morning drinks and after the gym.
Finally – make use of the waste – apple peel and core makes great compost!