Booths Brand Great Taste Award Wins 2020
Written on November 11th, 2020
---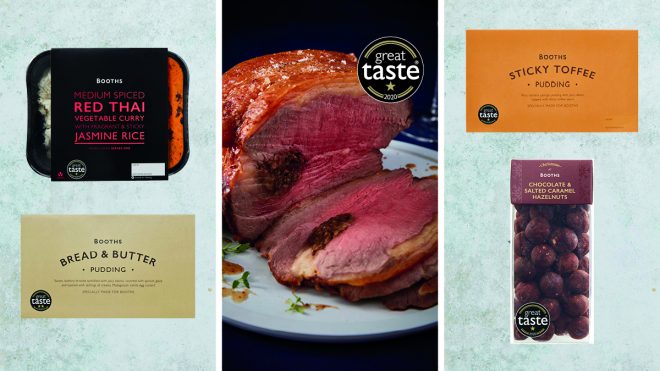 We are delighted that several of our Booths brand products have won Great Taste Awards in 2020. The Guild of Fine Food's 'Great Taste' is the world's largest and most trusted food and drink awards, and the Guild of Fine Food have been promoting excellence in fine food and drink since 1995.
Putting your food or drink to the test with our panel of over 500 experts is a quick way to get honest, straightforward and impartial feedback from chefs, buyers, food writers and retailers. Whether your product receives a 1-, 2- or 3-star accolade, Great Taste stars are highly respected seals of approval.

Guild of Fine Food
Great Taste 1 Star
Booths Chocolate Coated Salted Caramel Hazelnuts, 150g, £5
A festive blend of salted caramelised hazelnuts, dusted in cocoa powder.
Available in store from 11th December, now available to pre-order for Christmas 2020 (item no.347).
Booths Beef Sirloin Joint with Truffle Stuffing, Serves 4-6 £37
British 21 day matured boneless beef sirloin joint with porcini mushroom and truffle stuffing, topped with salt and cracked black pepper butter.
Only available to pre-order for Christmas 2020 (item no.085).
Booths Sticky Toffee Pudding, 400g £3.75
Rich, buttery sponge pudding with juicy dates, topped with sticky toffee sauce.
In store now.
Booths Medium Spiced Red Thai Vegetable Curry with Fragrant & Sticky Jasmine Rice, Serves 1, £4.25
Suitable for vegans. In store now.
Great Taste 2 Stars
Booths Brioche Bread and Butter Pudding, 500g £3.50
Sweet, buttery brioche sprinkled with juicy raisins, covered with apricot glaze and layered with creamy Madagascan vanilla egg custard.
In store now and available to pre-order for Christmas 2020 (item no.264).