Booths to Scale 3 Peaks for Little Teds
Written on July 11th, 2016
---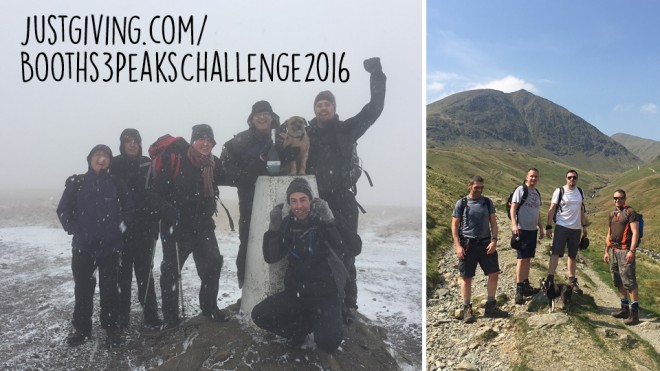 This event is on July 12th, 2016
A group of 14 Booths colleagues are challenging themselves to complete the 3 peaks challenge in just 24 hours, starting at 7am tomorrow to raise money for Little Teds, part of The Baby Beat Appeal.
Megan Helly, Matt Welsh, Bryan Dutch, Paul Southworth, Neil Croskery, Chris Thompson, Liam Underwood, Steve Rogerson, Simon Fenwick, Richard Ford, Ben Cross, Adam Slater, Richard Sykes and Andrew Allison will set off at 7am tomorrow with the aim of starting to climb Ben Nevis at 1pm. They aim to complete Scafell Pike overnight and then Snowdon by 1pm on Wednesday.
The Baby Beat Appeal was established in 1987 and aims to maintain and raise standards in preventative care and foetal well-being at the Sharoe Green maternity unit at the Royal Preston Hospital. The Little Ted appeal aims to raise £75,000 for the sound proofing of a number of rooms in the maternity unit for use by parents who have suffered a miscarriage or still birth. So far, they have raised £25,000.
A number of Booths colleagues completed the Yorkshire 3 Peaks last September and raised over £7000 for Donna's Dreamhouse and Magic of Matilda. Our aim is to better this by raising £10,000 for the above cause. Any donations will be gratefully received.
You can donate online or in store in our collection buckets.
It's not an easy challenge, but it's a very worthwhile cause, so please support in any way you can whether by donation or an encouraging tweet and we will keep everyone updated (phone signal permitting!) on progress along the way!