Christmas Gift Guide 2020
Written on November 19th, 2020
---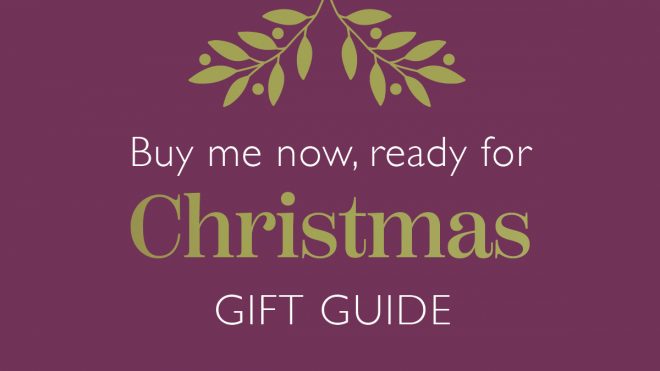 Welcome to our Christmas Gift Guide 2020! From indulgent food and drink gifts to stocking stuffers, we've all you need in store to treat your friends, family and colleagues this Christmas! Take a look at some of our favourites.
Stocking Fillers

Popaball Shimmers, Rose Gold or Blue Pearl £6 Each
RHS Stacking Set, £10 until 25.12.20
Strictly Come Dancing Mug & Paddle, £6
Cath Kidston Magical Woodland Lip Balm Compact, £6
Pretty Polly Merry Christmas Socks, £4
Beauty

Eco Warrior Soap Bars, £4.50
Feather & Down Pillow Spray, 100ml £7
Bulldog Cracker, £5
(Fancy) Biscuits

Dean's Steven Brown Kev McCoo Butter Shortbread 160g  £6.85 or 2 for £12 until 25.12.20
Grandma Wild's Festive Biscuit Tubes, 200g £4 or 2 for £6 until 25.12.20
Grandma Wild's Cats In Jumpers Tin / Dogs In Jumpers Tin, 160g £6.50 or 2 for £12 until 25.12.20
McVities Family Circle, 620g £2 until 01.12.20
Booths All Butter Shortbread, 360g £4 or 2 for £6 until 25.12.20
Drinks
Our Favourite Full-Sized Bottles

Booths Prosecco Magnum, 1.5ltr £17 until 03.01.21
This fresh, dry fizz has light and delicate citrus notes.
Save £10 on selected bottles of luxury spirits until 03.01.21.
Belle & Co Alcohol Free Fizz, 75cl £3.50
Booths Late Bottled Vintage Port, 50cl £14.50
"Opaque and deep ruby in colour with intense aromas of black cherry and blackcurrant. Rich and concentrated with a mouth-watering finish, laced with sweet spices."
Our Favourite Gift Sets

Fever Tree Ultimate G&T Selection Each £15, Only £12 25.11.20 – 08.12.20
The Flying Scotch Dram Train 4x5cl £10
San Miguel Chalice 330ml £5
Buy Kin Toffee Apple + Vodka, 50cl £20 or Kin Toffee + Vodka, 50cl £20 and get a free Kin Toffee + Vodka Shot Glass Gift Pack worth £10, while stocks last
Whitley Neill 3 Miniature Bottles Gift Set 3 x 5cl £10
Luxury Hot Drinks

Twinings Christmas Bauble, £4
Monin Coffee Syrup Set, 5x5cl was £7 now £6 until 01.12.20
Cocoba Hot Chocolate Bombe Cracker, £9
Preserves

Hawkshead Christmas Duo Cheeseboard 500g £5
Opies Fruits in Liqueur, £7 or 2 for 12 until 25.12.20
Hawkshead Couture Gift, 3x130g £15
Chocolate

Selected Chocolate Tubs, 2 for £10 until 25.12.20
Green & Blacks Connoisseur Collection, 540g £20. Half Price £10 11.12.20 – 24.12.20
Cadbury Dairy Milk Retro Selection Box, 460g £5
Ferrero Rocher, 42 Pack £11 until 25.12.20
Quality Street Tin, 1kg £7 until 03.01.21
Build Your Own Hamper

Pick up an empty Booths hamper or gift box and fill it to the brim with their favourite goodies! Prices start from £5, available at all stores except MediaCity, while stocks last.
Gift Vouchers

Gift vouchers to spend in store can be purchased in store or by credit/debit card over the phone on 0800 2218 086 Mon-Fri 8.30am-4pm. You can buy them in denominations of £5, £10 and £25.