Cuckoo Solace Gin – Raising Funds For Jo's Cervical Cancer Trust
Written on November 7th, 2019
---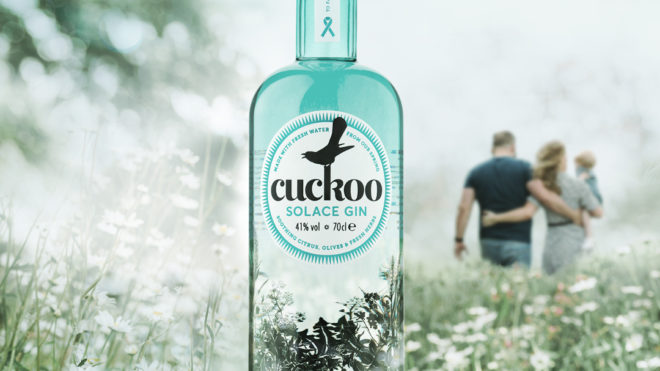 We're absolutely honoured to offer NEW Cuckoo Solace Gin in selected stores, £36. It's a quality gin with a very special and personal story behind it, as told by the Cuckoo team:
New Cuckoo Gin launch raises over £24,000 to help raise awareness for Cervical Screening and give Solace to those in times of great need.
Brindle Distillery, producers of the award-winning Cuckoo Gin, have launched a brand new product to their range, Cuckoo Solace Gin. In the build up to its launch, the distillery held a charity fundraiser in order to raise money for Jo's Cervical Cancer Trust.
The charity is very close to the team at Cuckoo's hearts as Liz Long, the wife of Master Distiller and Director, Mark Long and the daughter of fellow Directors, Gerard and Cath Singleton, was diagnosed with a rare and aggressive form of the cancer in January this year at the age of 29. This was discovered from the results of a routine cervical screening test, which are available to help prevent cancer and not discover it. Unfortunately for Liz, however, this was not the case. Liz underwent major life-changing surgeries to treat the cancer and is now fortunately, after a long recovery process, living cancer free. Liz is now extremely passionate about raising awareness of the importance of women attending their cervical screening tests as, through her experience with cervical cancer, she has discovered some frightening statistics regarding the subject. Liz wrote and published online a frank and honest piece about her story and the awareness she wishes to raise,
entitled 'An Open Letter – to fabulous women everywhere and men with fabulous women in their lives.' She has received some incredible feedback regarding her blog and wishes to continue spreading the word further, which is where the new Cuckoo Gin steps in to help.
The combination of fundraiser tickets, a live auction, raffle tickets, proceeds from the first batch of Solace Gin, and donations totted up to an impressive £24k total. The former cow shed turned impressive distillery was full of love and rocked till the morning hours thanks to the magnificent UTC (Under The Covers) band, with cancer survivor Liz, also belting out some numbers.
Cuckoo Solace Gin
SOLACE noun comfort in a time of great distress.
Cuckoo Gin is made with love and the spirit of our family and community, special ingredients that gave our Liz the strength she needed to fight a rare and aggressive form of cervical cancer in January 2019. Through her cancer journey, Liz and everyone at our distillery have been inspired to help raise awareness about the importance of cervical screening. To show our gratitude for the support we received, a percentage of proceeds from this bottle will be donated to Jo's Cervical Cancer Trust who are helping others in similar situations. So let's continue to raise both awareness and a glass, to family, friends and new beginnings
THE GIN
Well rounded and juniper-rich with soothing, mellow and comforting aromas. A savoury combination of rosemary and lemon thyme from our farm, teamed with Nocellara and Cuquillo olives and lemon, with big hits of fresh grapefruit. Completing this offering are classic gin botanicals that include liquorice, cassia, cardamom, almond, coriander and orris root.
SERVE
Serve a rewarding double measure over lots of ice with a good premium tonic, garnish with your favourite olives skewered with a spring of rosemary and a chunk of Grapefruit. Try adding a tiny sprinkle of rock salt to season your G & T. Gather round with loved ones, sit back and relax.
Mark and Liz would publicly like to thank everyone who has helped, little or large, for their support, generosity and spirit.
Prices correct at time of writing, selected stores only – check before travel.