David Wins The Christie's Fundraiser of the Month
Written on March 20th, 2018
---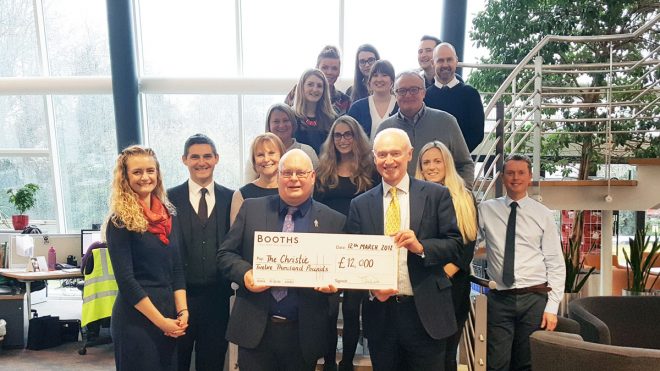 David Kearney (left) & Edwin Booth (right) with the presentation cheque for The Christie
Our very own David Kearney, who was diagnosed with prostate cancer in 2016, his family and our colleagues have managed to raise a staggering £12,000 for The Christie, a charity that provides enhanced services that go above and beyond NHS funds for cancer patients and their families. David has carried on working while receiving treatment and we're very proud to say that his fundraising efforts have earned him the title of "Fundraiser of the Month" for the charity.
David received all of his treatment at The Christie, including a gruelling 18 weeks of chemotherapy. David, his sons Joshua and Joseph and 8 other colleagues from Booths took part in the Great Manchester Run raising £5.5k between David's chemotherapy treatments. David completed the run, despite struggling with pain in his legs from his treatment and being unable to train.
His battle with cancer inspired us here at Booths to do something to show David how much we care. We've since focussed on fundraising for the charity through a variety of raffles and fundraising days, The Christie is also our charity of the year.
Head of Booths Brand Abby Talbot (far left), one of the key driving forces behind the fundraising, said,
David is an inspiration to us all at work. We wanted to support him and thank The Christie for their amazing care and treatment. We may not be able to wave a magic wand and make everything perfect for David but we can all club together to raise some money for a worthwhile cause. Our target is to reach at least £15,000 and I'm confident as a team we'll get there.
David Kearney said,
I am overwhelmed by the generosity and kindness everyone has shown during this last 2 years since my diagnosis. Cancer is certainly a tough battle which me and my family face every day, however without the love, support, and humour that surrounds me at work it makes the battle a little easier to face.

A huge thank you to everyone involved, it's appreciated more than you know.