English Wine with Oz Clarke
Written on December 21st, 2020
---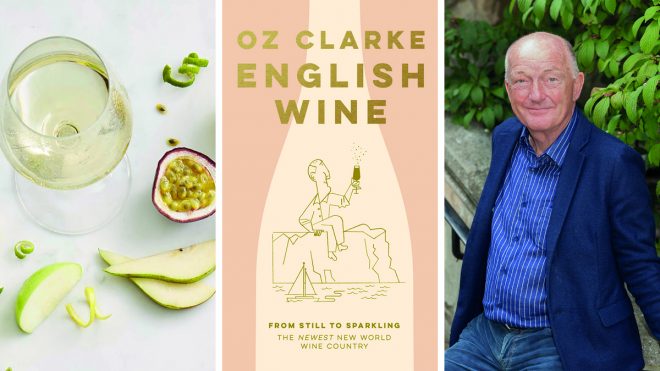 In celebration of both English wine and the release of his new book, 'English Wine: From still to sparkling: The NEWEST New World wine country' (£16.99), Oz Clarke has kindly produced a fantastic tasting film of a selection of our English wines, as well as answering a few of our burning questions about English wine!
Oz has long been a champion of English wines and this book helps you find the best wines, from fizz, whites, some impressive reds and even dessert and orange wines. One of the great pleasures of wine is to drink it where it is grown and made. Both wine handbook and armchair companion, English Wine is an essential book for all lovers of wine. The opportunity to meet growers, winemakers and winery owners is what draws people to visit wineries and 'have an experience in the vineyard'.

Pavilion Books
Why a book on English wine, what inspired you?
Its time had come. 2018 was the year when summer never ended. The English wine vintage hit the front pages of the Media in 2018 and 2019 because everyone had fond memories of the sun and the warmth and could at last believe in Britain and its ability to ripen wine grapes. And I realised that there was no book out there for this new mass of believers. So, I felt I just had to write a book on English wine – for everybody – expert and novice, enthusiast and doubter – everybody. And it's not just about English and Welsh wine. It's a book about our beautiful country. It's almost a love song to Britain, with grapes and wine – our grapes, our wine – at its heart.
What sets English Wine apart from other growing regions? What makes it distinctively English?
In a rapidly warming world, freshness, crispness, lightness of texture, orchard and hedgerow scents and low alcohol are all increasingly difficult to find. Except in Britain. We are at the northern limits of being able to ripen wine grapes. Even here, years like 2018 are already shocking our producers with their amazingly ripe characters. Can you imagine what the producers in France or Italy or Spain must be feeling? Very hot and very worried. Britain has the chance to become the world leader in Sparkling wine and fragrant, refreshing whites, roses, and even reds over the next generation. Luckily there are dozens, perhaps hundreds, of grape growers and wine producers in our nation intending to do precisely that.
Which English county is producing the most interesting wines?
Nearly every county in England – and quite a few in Wales – is now growing wine grapes. Yorkshire has 20 vineyards. A Pinot Noir red from Shropshire won a Gold Medal this year, a Bacchus made in Gateshead on the Tyne won a silver. But the greatest concentration is in Kent, Sussex, Hampshire and Essex. The wines they make are all fabulously different – as are the ones from Norfolk and Gloucester, Buckingham, Dorset and Monmouth. That's what's so thrilling. They're all different.
Which producers should we be looking out for?
If you have a local vineyard, try their wines (I know that's not easy in Lancashire). Otherwise work your way through the Booths Selection – there's 21 of them. That would have made a good Advent challenge. Hmmm… Next year.
We hear a lot about English Sparkling and White wines, is there a future for other wines? If so, which grape varieties will flourish? Within the next 5 years we should be making some of the best still rose wines in Europe. It takes time to learn how to do it – our best winemakers admit they are only gradually getting the hang of it. But we will have a lot of Pinot Noir and Pinot Meunier grapes – more than we need for fizz – and these would make wonderful Rose. Pinot Precoce, Dornfelder, Rondo and Regent are other red varieties well-suited to pink wine. But we will also make greater amounts of exciting, scented, utterly non-Burgundian English Pinot Noir red each year – initially in the South and East Anglia, but also in the West and the Midlands, and maybe just about in the North. Rondo and Regent and two modern 'created' grape varieties that already make good reds, along with Pinot Precoce, by themselves or in blends. And we have a highly rated new variety called Divico just being planted, which could produce lovely reds in cool conditions.
How will English Wines age or are they better to drink up young?
Most English wines are ready to drink as soon as they are bottled. But there's no doubt the Sparkling wines can age brilliantly – I've recently splashed back a Ridgeview 2003 and a Nyetimber 1998 – both fabulous. Still wines?? Can they age?? Well, ideally drink them young. But a Stopham Pinot Blanc 2011 from Sussex, and a Leventhorpe Madeleine Angevine 2005 I had recently, were both stunning. Leventhorpe's in Yorkshire, by the way.
What are your favourite English Wines at Booths and what do you recommend?
I've chosen 6 Booths English wines – all from different counties – to showcase their fabulous range – but they have 21 English wines – and I could recommend them all!
About Oz
Oz is one of the world's leading wine experts, known for his phenomenal palate, irreverent style, accurate predictions, and enthusiasm for life in general and wine in particular. He is the author of many award-winning books on wine. Before wine took over his life in 1984, Oz was a full-time actor and singer, appearing in West End hit shows and touring with the Royal Shakespeare Company. Alongside his entertaining television and radio broadcasts, including 'Food and Drink', 'Oz and James' with James May and James Martin's Saturday Morning, he presents a series of concerts, Drink to Music! with the acclaimed Armonico Consort. Oz is also sports mad. He was awarded an OBE in 2020.
Featured Wines:
Booths English Sparkling Brut, 75cl £22
Made in the South Downs of England, by award winning producers Ridgeview, this English sparkling wine is a blend of Pinot Noir and Pinot Meunier supported by crisp Chardonnay notes.
Red fruits and toasty spice on the nose lead to an intense, yet elegant palate full of ripe citrus fruit with notes of brioche. The Pinot dominance brings depth and complexity, with the Chardonnay adding finesse and freshness.
The richness of the palate and vibrant acidity make this a great food wine. Wonderful with rich fish dishes or canapés featuring duck or beetroot, it's also perfect just on its own. Drink now or age for the next two or three years.
Lyme Bay Shoreline, 75cl £10.75
Save £3. Was £13.75. Now £10.75. Ends 03.01.21
Crisp and refreshing, with lemon, grapefruit and nettle notes. Serve with seafood.
Chapel Down Chardonnay, 75cl £12.50
Was £14.50. Now £12.50. Ends 03.01.21
100% Chardonnay from Kent, Sussex and Essex. Aromatic tropical fruit flavours and hints of lime on the palate. Lovely with grilled fish.

Camel Valley Cornwall Brut, 75cl £28.50
A fresh and fruity fizz, perfect for all celebrations. With English hedgerow scents and a touch of honey on the palate.
Flint Vineyards Charmat Rosé 2019, 75cl £22
The 2019 Charmat has a delicate pink colour and is full of red berry fruits backed up with a lightly caramelised aroma. On the palate it is zippy and sassy with a soft, creamy mousse that comes from the slow, cool secondary fermentation. It is a fun yet complex wine that makes the perfect aperitif for any occasion.
Forty Hall Bacchus, 75cl £15
Bacchus is a single varietal organic still white wine, produced exclusively from the grapes grown at Forty Hall Vineyard, London. The wine is fresh, light, bright and clean with flavours of crisp apples, and aromas of gooseberry and blackcurrant. A great aperitif and food-match for shellfish, seafood and oriental dishes. Great to drink now but will develop nicely over the next two years.