Festive Gifts from Booths
Written on October 17th, 2017
---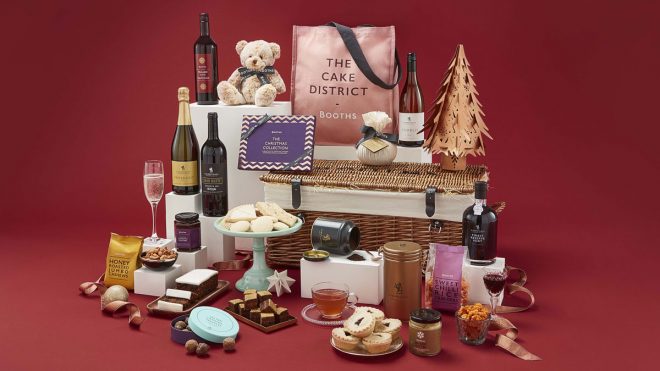 Our NEW festive gift range is here! Choose from a wide range of wines, ales and delicious foods, now available in a combination of exquisitely arranged hampers, bags and boxes ready to be delivered to food lovers' doorsteps across Britain.
Booth's online gift selection can be ordered for next day delivery for as little as £6 or collected in store, view the full range by clicking here, or read on to discover our top ten – if you find any tempt you simply click the title of the gift you're interested in to visit the online shop.
Top 10 gifts from Booths Christmas hamper range now available online:
Booths Christmas Collection Hamper £155
The largest and most decadent of the range, the collection hamper is brimming with many Booths Christmas favourites from beautifully spiced mulled wine to a sumptuously soaked brandy, port and walnut Christmas pudding. The 20 piece collection comes with a large wicker hamper and your very own 'Cake District' bag. A combination of savoury and sweet as well as 5 full sized alcoholic items makes this the perfect extravagant gift for your taste buds this Christmas.
The second largest in this year's Christmas hamper selection, the luxury hamper a mostly sweet selection of festive food and drink. The Booths narrative began with their fine range of teas and coffees and so naturally, these are incorporated in this deluxe assortment of festive delicacies. Including 3 full sized alcoholic items, this selection has all you will need and more for a festive tipple and selection of delicious foodie delights.
This festive hamper is packed full of every household's favourite Christmas goodies. From Booths very own extra fruity Christmas pudding to their smooth Christmas coffee. Stock up your pantry with this delicious assortment of Christmas must-haves either as a gift or perfect to share with Christmas visitors or dinner guests. This fine selection also includes two bottles of Booths finest wine.
Ginvent 2017 Edition Advent Calendar £120
Back by popular demand, celebrate with a little extravagance this advent season with Booths Ginvent calendar. Including a wide range of all your favourite brands such as Masons, Slingsby and Tarquin's; this carefully chosen selection is sure to lure your taste buds on a gin tasting adventure this Christmas.
The Whisky Advent Calendar £125
Why save your finest treats until the 25th of December when you can enjoy them every day of December? Embark on a decadent discovery of the world's finest whiskies this advent with the Drinks by the Dram whisky advent calendar. The selection includes single grain whiskies, the World's Best Blended Whisky (World Whiskies Awards 2014), 50-year-old Scotch and rare single malts including whiskies worth up to £600 per bottle.
The Booths Ale Crate £30, 6 bottles and wooden bottle carrier
A popular gift this winter, the Booths Ale Crate offers an assortment of 6 carefully chosen Northern ales showcasing the best from each of the Booths counties. Once finished you'll still be able to enjoy your very own bespoke wooden bottle crate with a built in bottle opener to store more of your favourite drinks this festive season. Sample the very best of the north in this unique collection available this Christmas.
Chairman's Christmas Selection £75
Wine selection has been a speciality of Booths for many years and this festive assortment is no exception. The selection includes 4 bottles ranging from 100% Syrah grape wine sourced from northern Rhone, bursting with rich flavours of hedgerow fruits. In addition Booths have chosen a Gewürztraminer wine from Trentino, Italy, rich with an apricot and lychee bouquet – perfect with curried leftover turkey and apricot stuffing!
A note from Edwin Booth:
After having spent fifteen years buying wine for Booths back in the 1980's I have never lost my love of discovering new, exciting flavours. Here are four of my personal favourites, including one which we have stocked for over thirty years.
Christmas Afternoon Tea Hamper £60
Booths and their northern supplier Bells have teamed together to bring you the very best of irresistible cake bites for your very own festive afternoon tea at home. Perfect for anyone with a sweet tooth, this hamper includes Booths popular Christmas coffee and breakfast tea, as well as an assortment of festive bite-sized treats and mince pies. Enjoy some bubbles on the size with 75cl of Booths Prosecco included in this fabulous hamper!
The perfect assortment of Christmas nibbles to satisfy the taste buds of any foodie this festive season. This hamper includes a range of festive favourites from classic mince pies, to sweet chilli rice crackers and a 75cl bottle of Booths Prosecco. Enjoy a sweet and savoury range of goodie alongside a cup of delightful Booth breakfast tea. Complete with its very own Booths bag and small wicker hamper, this selection makes the perfect gift for foodies this Christmas.
Booths Prosecco and Truffle Box £20, 75cl and 6 Truffles
Enjoy the delightful combination of Booths Prosecco Brut (75cl) and 6 handmade assorted Champagne truffles this Christmas. Carefully selected by a team of experts, this delicate prosecco ensures a perfect balance of characteristic aromatics such as green apple and peach. Produced in the Veneto region of north east Italy, this sparkling wine not only looks fantastic but tastes exquisite. A brilliantly gift for those with a taste for the finer things in life.
Click the button below to shop the range online now.