Gifts By Booths Grows
Written on June 13th, 2017
---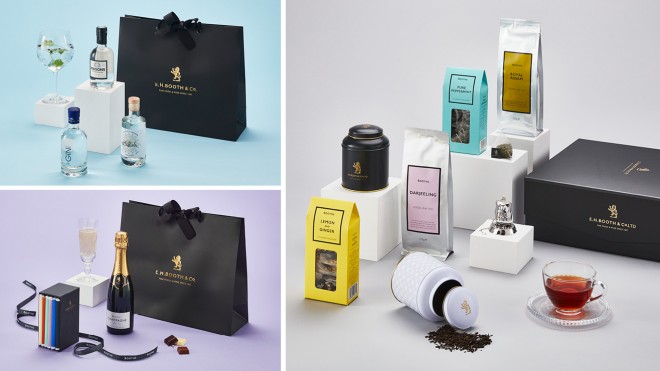 We're very pleased to introduce our newest selection of gifts, ready to order online for home delivery now. We've increased our fabulous gift and hamper selection to include the best of Booths country gins, plus a library fit for any chocoholic to name but a couple – browse a few of our favourites from the new additions below.
Chocolate Bookcase Gift £35 A selection of six of our 100g British handmade chocolate bars are presented in a mini bookcase, accompanied by a half bottle (37.5cl) of Booths NV Champagne. Milk, Dark (70%), White, Sweet Fig & Port Essence, Crystallised Ginger Dark Chocolate (70%) and Jasmine Dark Chocolate (70%) make up the full set.
Champagne Gift Box £75 If they have a reason to toast, a new baby, an engagement, a new home…why not send our Champagne gift box and help them celebrate? Our Booths NV Champagne is twinned with our Booths Rosé Champagne in a beautiful presentation box.
Northern Gin Gift Bag £50 A trio of 20cl gins from Booths country in a beautiful presentation gift bag! Try Batch gin from Burnley, a family-based distillery, they lovingly craft and bottle their spirits by hand in batches of no more than 25 litres at a time. Distilled in their copper alembic stills "Steve' and "Leftie" in 200 litre batches, you can try Masons Yorkshire Gin – the very first gin to be distilled in Yorkshire. The third in our trio is The Lakes Gin. Produced with crystal clear water from the River Derwent and a selection of Cumbrian botanicals, it's the only gin with true Cumbrian provenance. If you like the sound of this gift, there's also a flavoured trio to try!
Booths Premium Tea Hamper £40 For the tea lovers in your life may we present our premium tea hamper! Packed with a selection of premium herbal infusions and loose-leaf teas, alongside a tea infuser and all packaged into a beautiful presentation box.

This is just a snippet of what's new, you can browse the full selection here, including a carefully curated gift box of dinner party wines to see your host through from welcome drinks to after dinner relaxation, a basket of goodies expecially designed for cheese; and a hamper packed full of the best Northern ales.