Go Herdwick!
Written on March 18th, 2016
---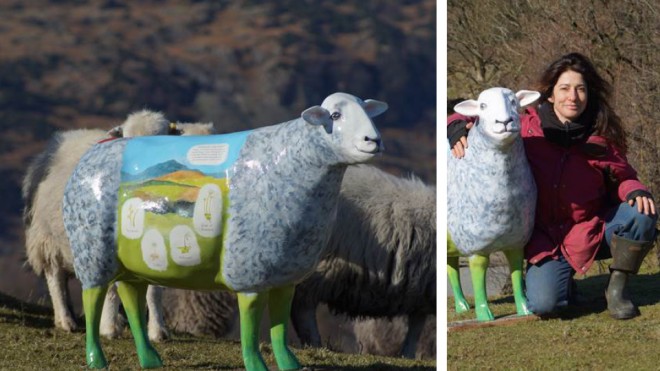 This event is on April 25th, 2016
A flock of decorated model sheep are set to invade the Lake District in a bid to raise money for the Calvert Trust.
The Go Herdwick project will see up to 60 life-sized ewes, made from glass-reinforced plastic, form an art trail between Keswick and Windermere. As part of the Lake District Calvert Trust's 40th anniversary, it is hoped the art will raise funds for a new facility at their Old Windebrowe site.
We are proud to sponsor one of the Herdwick ewes which will be on display at our newly re-opened Keswick store.
The sheep will pop-up in unexpected places on buildings, in shops and on boats along the 555 bus route across Rydal, Grasmere, Ambleside, Keswick and Windermere from Easter 2016.
The Keswick ewe called "Mrs Heelis," better known as Beatrix Potter, was designed by local artist Jo McGrath, who lives and paints at Yew Tree Farm, which was once owned by Mrs. Heelis, who is widely regarded to have saved the iconic Herdwick breed from extinction.
We will also have a ewe on display at our Windermere store, sponsored by bakery supplier Bells of Lazonby which has been decorated by the local primary school children from Lazonby School. The design of the ewe takes its inspiration from what the students love most about the Lake District.
The Calvert Trust will round up and auction the Herdwick ewes to raise much need funds for the charity. The charity, which provides outdoor holidays for people with disabilities, will use the money to develop the Grade II listed building at Old Windebrowe into a rehabilitation centre for people recovering from strokes and for those with brain injuries.
Herdwick sheep are native to the Lake District and often graze at heights of about 3,000ft (915 metres). Recognised as one of the hardiest British sheep breeds, in 2013 it was awarded protected status by the European Commission.
We are the only major retailer to stock Herdwick lamb, giving a viable market to upland farmers in the Lake District and preserving a way of life in the Lake District.