Hampers Galore – NEW Online Gifts Collection from Booths
Written on April 23rd, 2018
---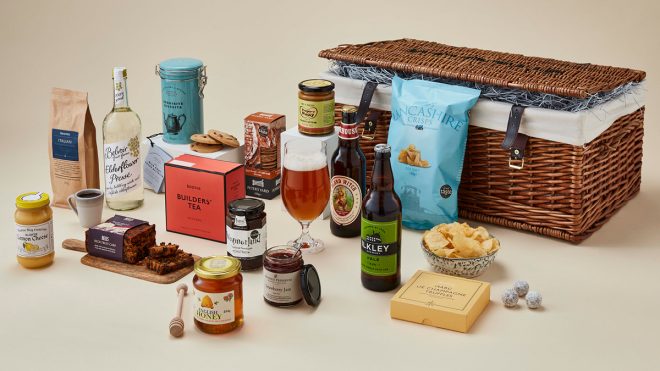 Featured image Best of Booths Hamper, £80
We're really pleased to say that we've revamped and revitalised our online gifts collection.
We've listened to your views and completely overhauled our online range of fabulous foodie gifts; keeping your favourites, adding some new favourites and improving on the price tags. Each one is available for next day delivery (except for weekends) if you order before 1pm.
Emily Burr, our online gifts buyer, said,
The new range builds on the great range we already have, but will bring additional new and exciting products to our online offering. The new range has been based on extensive market research, and I believe it to be exactly what our shoppers want.
New Favourites
We've chosen a shortlist of our personal favourites from the new collection: The Miniature Gin Hatbox £45, perfect for the budding gin connoisseur; which includes six miniature batch gins from leading suppliers, such as Whitley Neill, Hendricks, Beefeater and Cotswolds, plus Fever Tree tonics and a Ginspiration book. If you're after something alcohol free, The Booths Coffee Selection £25 is ideal. It includes a range of our favourite coffees plus the 'Coffee Obsession' book by Anette Moldvaer, a collection of over 100 unique coffee recipes. The Chocolate Lovers Hatbox £40, is perfect for anyone with a sweet tooth; including a selection of our favourite chocolates, a Cartmel sauce and a Seggiano chocolate spread, plus a tin of Cartwright and Butler biscuits, all of which is beautifully packaged into a keepsake hatbox.

Old Favourites
We know that you loved the Afternoon Tea Hamper £55, and the Gentleman's Gift Hamper £55, so we've kept them in the collection and tweaked the contents a little so they're even better than before.
The Chairman's Vintage Wine Selection £75, "This perfectly packed gift basket contains four bottles of our most exquisite wine, specially chosen by Chairman of Booths and fine wine lover, Mr Edwin Booth," and The Booths Ale Crate £30 (formerly named The Northern Ale Crate) "A carefully curated selection of 6 x 500ml bottles of the best ales from the four counties of Booths Country. Beautifully presented in a handmade embossed wooden crate, complete with bottle opener. A gift that will last long after the beer has finished!" remain firm, unchanged, favourites.
Why not explore the range for yourself to find your perfect gift?