Happy World Gin Day 2019!
Written on June 5th, 2019
---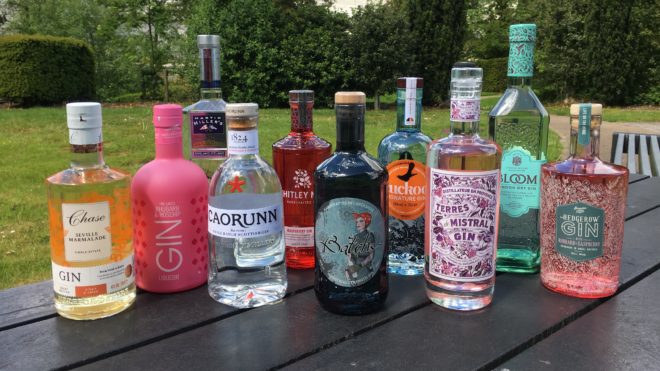 We caught up with our Beer and Spirits Buyer Pete to find out exactly what he looks for in a gin, plus his top ten recommendations to try ahead of World Gin Day 2019! Here's what he had to say: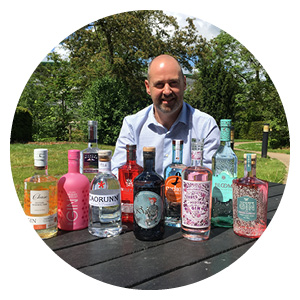 "There's never been a better time to enjoy gin with so many different brands and styles available. I'm always looking for something a little different, whether it be a new and exciting flavour or if the gin is made locally and with local ingredients. I strive to source gins that our customers will delight in finding, sometimes from brands they already love or ones they will delight in getting to know."
In no particular order:
1. Award-winning Batch Industrial Strength Gin. 70cl £33.00 (ends 02.07.19) Crafted in Lancashire, an over-proof gin with an abv of 55%, it has sweet lemon notes on the nose with powerful juniper which gives way to a smooth, lingering citrus finish. The perfect base for any gin cocktail, or a really excellent G&T.

2. The Lakes Distillery Rhubarb & Rosehip Gin Liqueur, 70cl £23.00 (ends 02.07.19) One of our favourites from last year too, produced in Cumbria it's a classic dry gin infused with you guessed it – rhubarb and rosehip! Serve it 1 part gin to 3 or 4 parts premium ginger ale and garnished with a slice of apple.

3. Caorunn Small Batch Scottish Gin, 70cl £21.50 (ends 02.07.19) A dry and crisp gin with fruity floral notes, made from Celtic botanicals and crystal clear Scottish water. They've given us a little cocktail idea to try for a sweeter take on the classic G&T:
35ml Caorunn Gin
20ml Cloudy Apple Juice
100ml Fever-Tree Slim-line Tonic
3ml Madagascar vanilla extract
1 Basil leaf
Red Apple Slices
Method Stir the Caorunn Gin, Apple Juice and Vanilla extract until blended, then pour over ice and top up with tonic. Garnish with thin red apple slices and 1 broken basil leaf on a skewer

4. Sloemotion Hedgerow Gin with Rhubarb and Raspberry, 70cl £30 (ends 02.07.19) Made in small batches in Yorkshire, the base is a traditional dry gin distilled with locally foraged botanicals then steeped with Yorkshire rhubarb and raspberries. "Pairs perfectly with Elderflower tonic, a handful of raspberries and a sprig of fresh mint to create a refreshing pink drink for the summery months."

5. Terres De Mistral Gin, 70cl, £27 (ends 02.07.19) A French entry to the list, this light pink gin features the botanicals of Provence with a fresh citrus flourish. Serve 1 part gin to 4 parts premium tonic. Fill a balloon glass with ice, pour over the gin followed by the tonic then add in 2 gently bruised basil leaves and 1 thin slice of grapefruit. Give it a brief stir then enjoy!

6. Whitley Neill Raspberry Gin, 70cl £21 (ends 02.07.19) "An initial and distinct juniper, coriander and liquorice flavour that gives way to a bright, fresh vibrant taste of Scottish raspberries. A perfectly balanced gin with a delicate, fruity taste and a lasting citrus, raspberry flavour." The simplest way to enjoy this gin is by serving 1 part gin to 4 parts Lamb & Watt Hibiscus or Basil tonic water over plenty of ice. If you can't get hold of these tonics, you can use your favourite premium tonic.

7. Cuckoo Signature Gin, 70cl £33 (ends 02.07.19) Handcrafted at their distillery at Brindle Farm, Cuckoo's signature gin is infused with sustainably and ethically sourced botanicals. After a slightly sweet, piney juniper start, the flavour develops into citrus from orange, grapefruit and lemon with a lingering taste of cinnamon spice and liquorice. Dry on the finish with a peppery kick from coriander seeds. Serve 1 part gin to 3 parts Fevertree Mediterranean Tonic over lots of ice in a large glass, garnished with 2 pieces of fresh orange peel and sip away.

8. Bloom London Dry Gin, 70cl £20 (ends 02.07.19) An award-winning premium London Dry Gin; which is delicate, fresh, floral and smooth. Best served with 2 quartered strawberries, ice and topped with premium tonic water.

9. Chase Seville Marmalade Gin, 70cl £33 (ends 02.07.19) Zingy and crisp, this gin is made in Herefordshire "carefully crafted by copper pot distilling GB Gin with an abundance of Seville orange peels."
Med Spritz
37.5ml Chase Seville Marmalade Gin
12.5ml Bianco Vermouth
Dash orange bitters
Tonic water top
Method: build all ingredients over ice in a wine glass, stir and garnish with a fresh rosemary sprig.

10. Martin Miller's Gin, 70cl £22.50 (ends 02.07.19) Blended with Icelandic spring water, this gin has a unique balance of citrus and juniper. Serve 1 part gin to 3 parts tonic, and garnish with strawberries and black pepper.

Whatever your choice, you can celebrate World Gin Day in style – cheers!
Prices are subject to change, and are correct at time of writing. While stocks last. We recommend you check before travelling for any specific products, as they may not be available in all stores. Find your nearest store by tapping the button below.