Have a #FlippingGoodChat with Sudi Pigott
Written on February 13th, 2017
---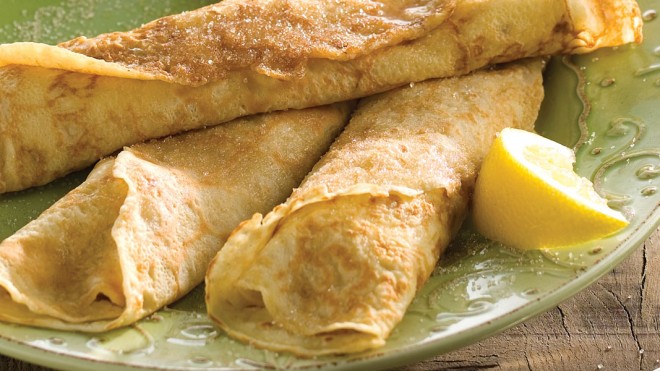 Sudi Pigott is a food, restaurant and travel journalist and broadcaster who writes for several magazines and newspapers and websites including The Sunday Telegraph, The Independent, The Evening Standard, Delicious Magazine, Robb Report and Silverkris, the magazine for Singapore Airlines. She also appears on BBC Radio 4. Sudi specialises in writing about upcoming culinary trends and also works as a trend consultant to food and restaurant companies.
To celebrate the upcoming release of Sudi's new book, Flipping Good! in Booths stores, (find it at Clitheroe, Settle, Longridge, Knutsford, Media City, Kendal, Garstang, Poulton, Ulverston, Windermere, Kirkby Lonsdale, Penrith, Burscough and Hale Barns) we're very excited to announce that Sudi, @sudifoodie, will be joining us on Twitter for a #FlippingGoodChat next Tuesday 21st February between 8pm – 9pm. Sudi will be answering some of our questions about the wonderful world of pancakes, and we'd love you to join in. Send us any questions you might have before then to @Boothscountry using #FlippingGoodChat, or simply tune in next Tuesday and join in with the conversation using #FlippingGoodChat, we'd love to hear from you! You could also be in with a chance of winning a FREE copy of the book just for taking part. We will pick 3 random winners from those who take part on the night between 8-9pm.
Who says pancakes are only for special occasions? Easy and economical, pancakes are loved the world over. In this new book, Sudi Pigott takes inspiration from her travels to offer an enticing collection of savoury and sweet pancakes from 25 different countries, to demonstrate just how versatile and delicious pancakes can be – many of which are gluten-free.

From fluffiest-ever American pancakes and definitive blinis to crunchy chickpea socca, exotic Arabic atayef, Japanese okonomiyaki and Sri Lankan hoppers, almost every global culture has its own version, be it a portable street food snack, a cultural tradition, an elegant treat or the perfect comfort food. Organized into chapters on Breakfast & Brunch, Snacks & Main Meals, and Teatime & Desserts, the recipes in Flipping Good! range from firm favourites like Scottish Oat Pancakes, and Crepes Suzette through to inspiring ideas such as Cornmeal Chorizo Pancakes with Cabrales Blue Cheese Sauce, Tomato and Lime Salsa, Fluffy Coconut Pancakes with Thyme-baked Apricots and Dorayaki, Japanese Honey Pancakes. Also included in the book are top tips from Sudi on everything from weighing and whisking to resting and flipping. Flipping Good! celebrates the joy of the pancake – one of the few things we love making almost as much as we enjoy eating!