In Season Now SKREI – A SEASONAL NORWEGIAN DELICACY
Written on January 18th, 2013
---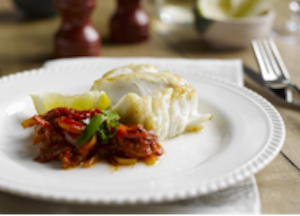 Line caught, straight from the cold, clear waters of Norway's beautiful Lofoten islands, Skrei is a much loved, premium Norwegian delicacy. Only available between January and April each year, Skrei is a migratory cod, which journeys thousands of miles annually from the Barents Sea to the Lofoten Islands in northern Norway to reproduce. Thanks to this epic journey through icy, dark waters, Skrei has a lean, bright white firm flesh and is rich in protein, vitamins and minerals, which makes it a hugely versatile, healthy and wholesome food.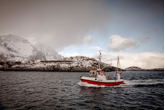 Fishing is a way of life for the Norwegian community, with the Skrei harvest an annual celebration amongst the generations. The coastline of the Lofoten Islands – where most of the Skrei fishing takes place – comes alive each year with the buzz of excitement that the Skrei season brings. Only the very best of the Norwegian cod catch that meet stringent quality standards will be labelled as Skrei, however no fish that are caught are wasted; an exemplary example of the Norwegian fisheries management system – Norway banned discards 25 years ago.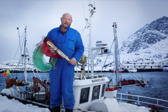 The majority of Skrei are caught with long-lines from small 10-15m vessels. This ensures the quality of the fish is kept in the finest of conditions.Norwegian fishing is a perfect example of man working closely with the environment – all Norwegian cod and haddock is MSC certified and the Barents Sea provides Norwegians with the largest growing cod stock in the world. Careful fisheries management ensures that only 10% of Skrei fish are caught each year.
SKREI® has already received high-end acclaim from top chefs, including Mitch Tonks and Michel Roux Jnr, who have both tried and loved Skrei, with Michel Roux Jnr featuring this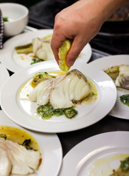 hero-fish on the menu for the last two years. Skrei loins are perfectly firm, with obvious fat lines defining the large white flakes, which melt away during cooking. Delicious in a ceviche; firm textured and sweet, or try just lightly curing it and thinly slicing to serve with olive oil, lemon, dill and sea salt – a mouthwatering starter. For a main course, why not try brining some of the loin, then roasting and serving with a little braised fennel and anchovy. With such a delicate, yet full flavour to the meat, the fish can be served simply, with nothing more. After just a short time in the oven, the muscle and fat between the flakes will melt away and can just push each one off with your fork. For a more traditional approach, serve Skrei simply with boiled potatoes and steamed carrots – letting all the flavours of the fish do the talking.