London 2 Paris Rider Edwin's Training Log
Written on May 3rd, 2023
---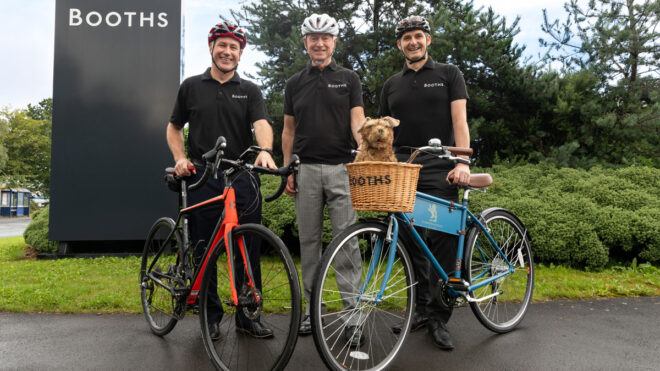 London 2 Paris team member and Chairman of Booths Edwin has shared some insight into how preparing for the London 2 Paris challenge is going for him, and what's to come!
Edwin says,
When I was a boy, my Mum used to despair when I disappeared for hours on end in the school holidays, exploring an ever-increasing radius from our home in Preston. I always loved cycling and enjoyed some club riding on and off until about 15 years ago.
I cannot have been thinking entirely rationally when in an unguarded moment I agreed to take on the L2P challenge. The old racer was wheeled out and after some sympathetic looks from other cyclists, I realised that a modern steed would be required. Is it in the budget, Mrs B enquired and so I had to make my excuses!
There are hills everywhere around our home and training has started with some short "hilly" rides to build some resilience into the legs. Some of these have been on a heavy mountain bike to try and build strength too! Finding time for longer rides has been challenging but I am now looking to ride some distances at the weekends out on to the Fylde where I can find some rhythm and build stamina. Perhaps the most scary thing is following the "big dogs" on Strava with some epic rides by some members of our team. I am trying hard to take this as inspiration!
Diet is a big challenge for me but Mrs B has taken me in hand and I must say that I feel much healthier these days. 0% beer and G&Ts have never tasted so good. I must have tried the entire Booths range!
Sometimes, riding alone can be a bit dull and I am looking forward to the big day when we all set off from Greenwich and of course a pile of croissants and apricot jam the day after the finish in Paris!
Inspiration comes in many forms and knowing the anguish that cancers can bring to the sufferer and their families makes me realise that the ride is nothing compared with what they experience.
If I can get from survive to thrive over the next few weeks, that will be good for me.