Make Mum's Day – Sunday 30th March
Written on March 26th, 2014
---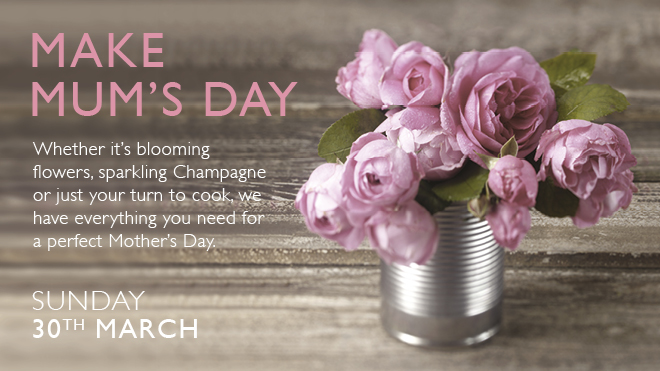 On March 30th, no Mum should have to lift a finger except to sip tea (or something stronger) or accept an armful of spring flowers. Whether you want to help the kids say thanks to grandma, let your other half kick back for the day or take a gorgeous gift to a special aunt, at Booths we have everything you need to make Mum's day.
A special Mothering Sunday starts with a toast, perhaps from a bottle of Bollinger, cava or – a favourite for obvious reasons – Mumm. Pair it with a box of chocolates (our selection in store includes Lindt's Swiss Luxury) or a cute Latham's pink gerbera sponge, filled with homemade raspberry jam and vanilla buttercream, and the day's already a treat.
With spring stirring all around, our flowers will bring the outside in. Our bouquets, trugs and posies are arranged for us in Lancashire and start at just £5. There's a bunch for every Mum, whether she favours the easy natural look of our spring floral gift bag, £12, or something more striking like our contemporary bouquet, £20. Our larger range of Mother's Day flowers will be in stores from Thursday 27th March, helping you pick the perfect bunch for Mum.
Even if she usually relishes time in the kitchen, there's something special about having good food handed to you on a plate – and we can help with that too with our range of specially selected starters, mains, sides and desserts. For a big family lunch, few things make a nicer start than a side of good smoked salmon. Serve Bleikers oak smoked salmon, now half price at £9.99, with lemon wedges and thinly-sliced brown bread and butter.
Our joints, including beef with a 1/3 off or Gammon at half price, are the ideal main course for a spring Sunday, and simple to roast for all the family to enjoy. We've got easy sides, including roast vegetables and goose fat potatoes (2 for £4) covered too, and for pudding Farmhouse Fare's luxurious handmade desserts, such as gingerbread and treacle pudding (half price at £1.99) will hit the spot. If mum favours peace and quiet, we have dishes to suit just two at the table with Save 1/3 on our ready to cook pork joint in apple sauce or chicken breasts in Wensleydale. And GU desserts such as melt in the middle chocolate puddings and key lime pies, half price at £1.74 for two, were made for quiet indulgence. View all of our Mother's Day Roast suggestions here.
Lively and hectic or blissfully peaceful, every Mum will have her own idea of a happy, relaxed Mother's Day. Find out what it is, and we can help you to make her day.