Meet London 2 Paris Rider Connor Turner
Written on May 17th, 2023
---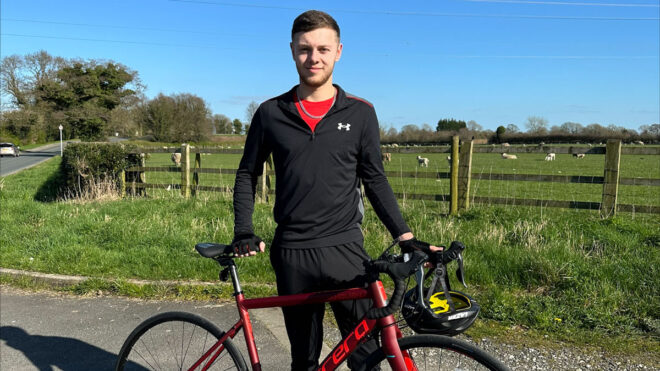 Connor Turner is 23, and started working at Booths when he was in college studying uniformed public services and sports.
Connor is currently in the future managers academy programme and has volunteered to take part in the London to Paris ride as a brilliant opportunity to raise money for a great cause.    
 
What's your motivation to ride the L2P?
My motivation to do L2P is to push myself to do something completely new and meet new people along the way whilst raising money for a great charity.
 
What leg of the tour are you looking forward to?
I'm most looking forward to day 4 and crossing the finish line as I can't think of a better location, by the Eiffel Tower, to finish a great achievement.
 
How are you training for the tour?
My girlfriend Stephanie and I are both riding London 2 Paris we have been training together, I'm not going to lie it was hard at first getting used to the cleats. My girlfriend fell off which distracted me to fall off as well! We are now getting better and having a good laugh along the way. 
 
Could you share your favourite training routes? Share your Scenic rides!
My favourite ride so far is around Beacon fell, I enjoy the countryside views and pushing myself on a more intermediate ride.
 
What are you eating and drinking to keep you motivated?
 My favourite snack to keep me energised throughout the day is my protein balls. These consist of high energy healthy ingredients and superfoods including oats & cacao nibs. I try to drink 3 litres of water a day to keep me hydrated.
 
What's your "power song" to keep you going?
 Love Tonight (David Guetta Remix)
 
What will inspire you when the going gets tough?
Knowing that's someone, somewhere will be getting the help they need,  from the money I raise. 
 
What's your personal or inspirational motto?
"Success is not final, failure is not fatal: it is the courage to continue that counts."
- Winston Churchill
What do you look forward to doing once you complete the London to Paris?
Whatever adventure lies next!