Meet London 2 Paris Rider Damien McDonald
Written on April 11th, 2023
---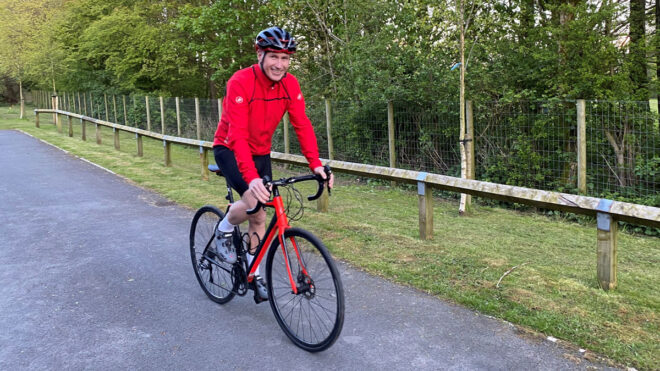 Damien McDonald is the Head of Finance at Booths and has worked for Booths for 6 years.
Damien took to cycling as a teenager — as a low-cost independent way of holidaying with friends with tents strapped to the bike. He returned to cycling when he taught his children to ride bikes. Like many cyclists of a certain age, he returned to the bike more seriously after an evening with friends — waking with a hangover and a vague recollection that he agreed to cycle the coast to coast.  After a few days of thinking "why didn't I just say no?" Damien rediscovered his love of cycling and has been hitting the roads ever since.
 

What's your motivation to ride the L 2 P?

It's a fantastic way to combine my love of cycling with raising money for a great charity which we have supported at Booths for a few years now.
 

What leg of the tour are you looking forward to?

 I am looking forward to the whole event and I can't wait to join the team in London for the kick off but since receiving the outline plan I am particularly excited about finishing at the Eifel tower – what a landmark to end the trip!! ????
 

How are you training for the tour?

 My training started a while ago as I am also taking part in the Fred Whitton sportive event around the Lake District in early May – I like to use this as my annual motivation to recover from the Christmas "bulk up".  I am training with a combination of indoor Zwift rides and as much outdoor rides with friends as possible. I admit that Zwifting always appeals more during winter weather.  I like to set myself a target of 100 miles per week, but don't get too upset if I don't achieve this every week, I try to convince myself that "rest" is just as important.
 

Could you share your favourite training routes? Share your Scenic rides!

My favourite local ride, without a doubt, is the classic Trough ride which is a circular route of about 35 miles from Longridge. This route goes past the famous Inn at Whitewell and incorporates the Trough of Bowland climb which is featured in the original "100 Greatest Cycling Climbs" book. After thinking you have done the hard part,  you still have to negotiate Marshaw, Harris End, Oakencough and then a few more undulations before arriving home. 
 
It's worth the effort as the scenery is absolutely stunning.
 

What are you eating and drinking to keep you motivated?

 I am an absolute chocoholic and I really have to force myself to avoid devouring too many chocolate bars whilst training for any big rides. Weight is definitely the enemy when you are taking on any big climbs and it is far cheaper to eat a bit less than replace a few metal bits with more carbon on your bike????.  I have absolutely love the Booths Tiffin Bites and eat as many as I can during the stops as a feel that I have earned them. We're going to have to stock and take some to France.
 

What's your "power song" to keep you going?

For previous Booths rides,  I have always said that I enjoyed listening to Lizzo on the exercise bike but this year I have created a new play list and I can't help but put a little more effort in when the 80's classic "Eye of the Tiger" comes on.
 

What will inspire you when the going gets tough?

My intention is to train hard so that I can really enjoy the event when I get there.
 I'm hoping that the tough moments will in training and the finish line at the Eiffel Tower will be is my motivation.
 

What's your personal or inspirational motto?

 If it's not on Strava it doesn't exist!
 

What do you look forward to doing once you complete the London to Paris?

 Starting my Spanish holiday in great shape ready for lots of Sangria and Tapas!