Meet London 2 Paris Rider Darren Crossley
Written on May 24th, 2023
---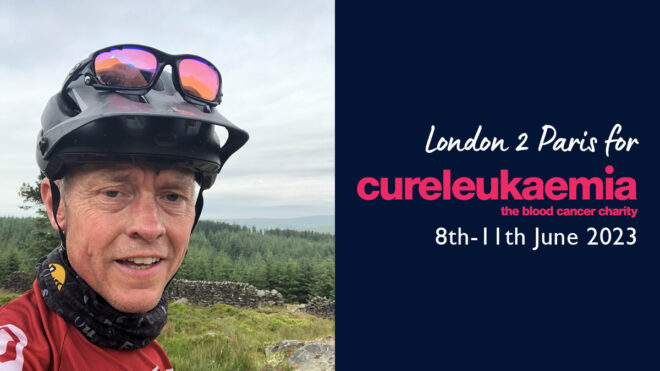 I'm a 53 year old father of three teenage daughters and husband to Helen Crossley, General Manager at Booths. None of the above facts have driven me to participate in the L2P!
I work in local government as the Director of Place, Sustainable Growth and Transport for the brand-new Cumberland Council.
I love a challenge and the L2P looks like a great adventure for a fantastic cause.
What's your motivation to ride the L2P?
I like to keep fit and enjoy taking on new challenges. The L2P will be a serious challenge and I can't wait to be part of the Booths Team, working together to raise money for Cure Leukaemia.
What leg of the tour are you looking forward to?
The final ride into Paris!
How are you training for the tour?
I'm ramping up my usual training to include more cycling and running. I've a busy work life so I'm trying to fit in the training by commuting into work to sneak in some extra miles.
I also hope to take part in some further Booths training rides!
Could you share your favourite training routes? Share your Scenic rides!
My favourite routes are in the Ribble Valley and Lake District. I really enjoy the hills!
What are you eating and drinking to keep you motivated?
For an early morning ride I love some porridge with soft fruit and Booths Chocolate and Ginger hot Cross Buns.
If not riding I'm mostly drinking coffee with the occasional glass of wine!
What's your "power song" to keep you going?
I always enjoy Mr. Blue Sky by ELO, plus it reminds me of family trips and holidays.
Or maybe 'Non, je ne regrette rien' for the final mile!
What will inspire you when the going gets tough?
Other people on the ride, I get a lot of inspiration when riding or running in a pack.
Also the thought of raising funds for such a great cause.
What's your personal or inspirational motto?
'May the road rise up to meet you, may the wind be always at your back'
What do you look forward to doing once you complete the London to Paris?
Having a beer in the sunshine (hopefully!).