Meet London 2 Paris Rider Edwin Booth
Written on April 19th, 2023
---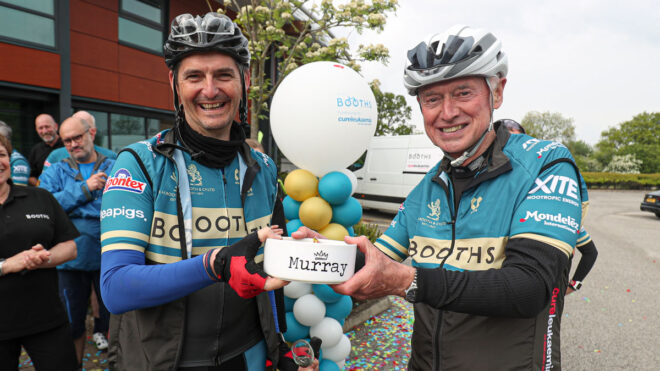 Meet Edwin Booth, Chairman of Booths and participant in Team Booths London 2 Paris cycling challenge!
What's your motivation to ride the L 2 P?
We all love food and wine in our family to the L2P is demanding some culinary discipline to ensure the body is up to the job! At 67 it is time to re-boot my fondness for cycling. The days of club Time Trials seem a long time ago. I have a dear friend whom I have known for over 50 years, who went through an awful time with a rare blood cancer and he has made a remarkable recovery. Shane has inspired me to join with the Booths team and see how much we can raise to help others like him to get modern and effective treatment that will give them hope for the future.
What leg of the tour are you looking forward to?
Riding into Paris!
How are you training for the tour?
I am gradually building up miles but doing hilly rides to build strength before doing longer distances. I play tennis regularly and have started to do some floor exercises and weights in the gym too.
Could you share your favourite training routes? Share your Scenic rides!
At the moment I am riding two hilly routes. A round of Hoghton and Samlesbury Bottoms (12 miles) and a round taking in a climb from Whalley up to the reservoirs above York village (17 miles). These are done on a mountain bike at the moment to gain strength. I am looking forward to riding out from Osbaldeston round Longridge fell and then out on to the Fylde via Broughton.
What are you eating and drinking to keep you motivated?
Mrs B is a marvellous cook so there is no particular favourite. Booths beef is excellent and we love to have a proper roast on Sunday evening even if there is only the two of us. A bottle of good Bordeaux red from Booths keeps me sane!
What's your "power song" to keep you going?
I don't listen to music on the bike and prefer to be aware of everything going on around me. I suppose I could hum – Gloria Gaynor – "I will survive"!
What will inspire you when the going gets tough?
I was a keen oarsman when I was young and when I first started my coach wrote up my report saying "Booth must learn that twinges in his muscles are not the first sign of death" I have never forgotten that!
What's your personal or inspirational motto?
Servite in Laetitia – now work that one out!
What do you look forward to doing once you complete the London to Paris?
Spending some downtime in Paris with Mrs B for two days, eating food heavily laced with garlic and drinking wine. We might take in some sights too!