Meet London 2 Paris Rider Nigel Murray
Written on April 27th, 2023
---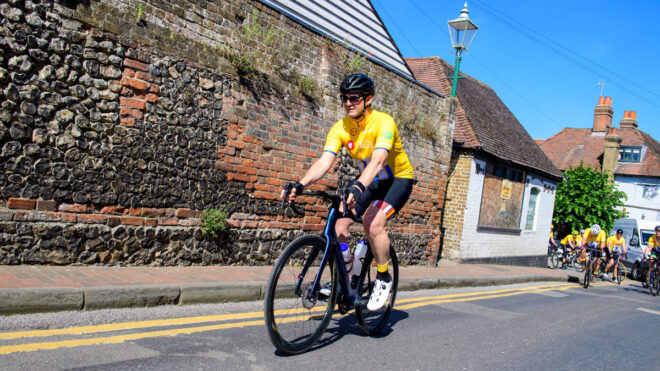 Nigel Murray is the Managing Director of Booths and a self-confessed midlife cyclist.
He lives in Harrogate with his wife Sue, son Jack, dog Bob, and at times, daughter Issy who is just completing her Masters in English Lit from Edinburgh University.
Nigel has been supporting Cure Leukaemia for the past 3 years since becoming aware of Geoff Thomas' inspiring story. He rode the Tour de France in 2021 and together with his colleagues at Booths raised over £100,000 for the Charity, in 2022 the team raised a further £30,000.
This year the Booths team are working with Cure Leukaemia to target our fundraising towards the community of Lancashire.
What's your motivation to ride the L 2 P?
To continue to raise funds and awareness for the great work of Cure Leukaemia.
The funds we raise this year will help to fund national Trials Acceleration Programmes (TAP) around the country, but this year we hope to establish and fund a local TAP specialist nurse based in Blackpool to support the communities of Lancashire and South Cumbria to enable blood cancer clinical trials closer to home.
What leg of the tour are you looking forward to?
I'm looking forward to the full tour, as all the stages are quite different. I'd like to finish stage 3 as last year's was cut short (rightly) given the temperatures hit the low 40's and all outside activity was stopped in France.
How are you training for the tour?
Riding (obvs ;)) indoor and increasingly outdoor. Running (slow jog really) and watching what I eat and drink—which is a challenge as we decide our Booths Christmas ranges right in the middle of my training!
Could you share your favourite training routes? Share your Scenic rides!
Given I have a fairly long commute to work, through the summer I get a ride in a couple of times a week in the evenings before setting off home. I have a tried and tested loop from the office up through Longridge and over Jeffrey Hill which rewards you with some incredible views at the top. Drop down and loop around through Chipping, back to Longridge for the final blast back. It's just over an hour, so it's full on with a really enjoyable climb in the middle of it.
Most years I ride a cycling sportive called 'The Struggle, Dales'. It is around 180km from Harrogate out through Nidderdale, Malham, Kettlewell. It takes in 7 of the toughest climbs Yorkshire has to offer including Hartwith Bank, Greenhow Hill, Malham, up the fearsome Park Rash to Masham, Trapping Hill and back into Harrogate via Two Stoops which just about finishes you off at the end of the day. It's a massive day out on the bike but a brilliant one nonetheless.
What are you eating and drinking to keep you motivated?
Porridge, made from Booths Oats, "The Breakfast of Champions!" alongside Booths Coffee, roasted in small batch quantities here in Preston.
What's your "power song" to keep you going?
How long do you have? there are many !!
Here's a mix: Curse Curse by James, Testify by HiFi Sean/Crystal Waters, Open Up by Leftfield
What will inspire you when the going gets tough?
Given it was my idea to do this event, personal pride !!
What's your personal or inspirational motto?
Carpe Diem, Seize the Day.
What do you look forward to doing once you complete the London to Paris?
A very cold refreshing beer…and celebrating what will hopefully be another major Booths Team accomplishment.