New Booths Hand Stretched Pizza and Sharing Breads
Written on June 13th, 2014
---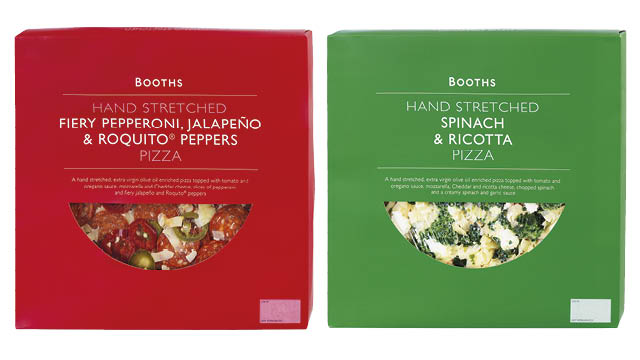 With hammock lounging, lawn mowing and major sporting events to attend to, the best summer food delivers on flavour without anyone having to spend too long in the kitchen. With this in mind, we've launched our own new range of pizzas and flatbreads just in time for the sunshine season. Add a crisp, generously-topped pizza to a patio lunch table laden with salads and cool drinks, serve our focaccia or tear-and-share garlic bread with a simple bowl of pasta, or put either in the oven when you're struggling to tear yourself away from the football or tennis; our refreshed range is extremely handy to have around.
Enriched with extra virgin olive oil and hand-stretched for a thin base and chewy, puffy crust, our new pizzas are the business. They bake in ten minutes or under and are generously topped. Our Margherita pizza gets its 'one more slice' factor from plenty of oozy mozzarella and an extra hit of sweet marinated tomato, our Spinach and Ricotta pizza has lots of Popeye-pleasing greens and milky ricotta seasoned with a classic touch of nutmeg, and our Spicy Chicken pizza has peppers, onions and fajita-spiced British chicken with flavours (cumin, paprika, chipotle chillies, thyme, cloves and nutmeg) that any cook would recognise.
If you're feeding a crowd, our sharing breads will have all hands reaching towards them. Our Tear and Share Garlic Bread is made with fermented ciabatta dough enriched with extra virgin olive oil, then slathered with a buttery garlic and parsley topping. And our Mature Cheddar & Red Onion Focaccia has the sweetness of onions and tomatoes, with a hit of mature cheddar. Both are hand-crafted for maximum pillowy spring and will disappear in minutes with salads, pasta, barbecued chicken or – if the weather doesn't quite play ball – soup.