NEW Local Gins In Store Now
Written on July 12th, 2018
---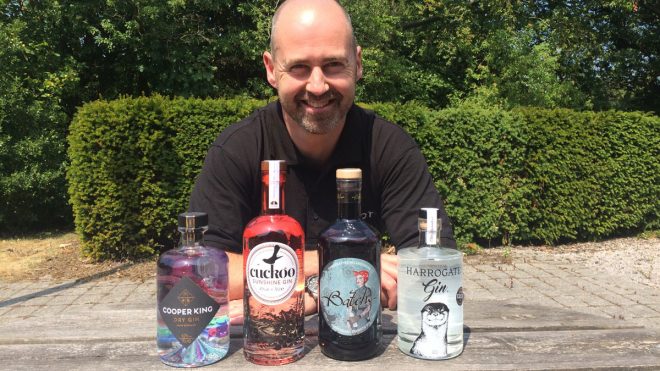 Our spirits buyer Pete has been hard at work sourcing a new range of local gins for the summer, and has introduced a very exciting selection of four, available in selected stores now.
Pete says,
At Booths, we like to source products from near and far and our Spirits range reflects this, whether it be whisky from Japan and Thailand or Gins made on our doorstep.

Booths customers love to see something interesting and original, especially if it links back to being local. The current Gin trend has captured the imagination of our customers but it's vital we keep our ranges fresh and vibrant. I am always looking out for something new that normally can't be found in many other retailers, such as Cooper King from York, who have only just begun producing their spirits. Booths are one of the first retailers to stock their gin. Also, we have Harrogate Gin with their wonderful Otter character heading the front of their bottle.

We also work with existing suppliers to support and help bring to market any additions to their existing range, such as Cuckoo Sunshine, the new kid on the block from Brindle Farm which complements their very popular Cuckoo Gin.

We hope you enjoy the new additions!
Cuckoo Sunshine Gin, 70cl £36, all stores
Brindle Farm, Lancashire
"Hello, Sunshine," that unmistakably endearing Lancashire term used to greet a loved one is what helped inspire Cuckoo's third gin. Working alongside the Bee Centre in Samlesbury, Lancashire, Cuckoo Sunshine Gin is infused with natural honey produced on the farm by Lancashire honeybees. Using honey instead of sugar creates a smooth and sweet gin.
A burst of raspberries attack the nose and leave a delicate fruity finish, backed up by some stunning botanicals used in the distillation process on the farm. The gin benefits from fragrant Italian juniper and sharp Spanish lemon, whilst almonds and vanilla give a creamy, nutty and sweet taste.
Serve with lots of ice, your favourite tonic or rose lemonade, fresh raspberries, lemon peel and a sprig of thyme.
Batch Industrial Gin 55% Abv, 70cl £38, all stores
Batch Distillery, Burnley, Lancashire
Batch Industrial Strength Gin is a playful twist on a Navy gin and a nod to the industrial heritage of Burnley.
A playful, overproof twist on the signature Batch recipe; with less spice, increased juniper and citrus, and the addition of botanicals such as lemon balm and apricot kernel. With sweet lemon notes on the nose, and on the palate powerful juniper gives way to a citrus burst with a smooth, lingering citrus finish.
To serve, fill a Copa glass with ice, swirl to cool the glass and drain any excess water. Add a shot of gin and top up with tonic. Serve with a couple of dried apricots and fresh sage leaf.
Cooper King Dry Gin 70cl £39, Ilkley, Settle and Ripon stores only
Cooper King Distillery, York
Located in the heart of Yorkshire, Cooper King Distillery is England's only self-built whisky and gin distillery, and one of only a handful in the country to run on 100% green energy. It has also become the first European distillery to join international environmental initiative 1% for the Planet, through which it pledges to donate 1% of annual sales of its Dry Gin to charity.
Hand distilled using honey from the distillery's beehives, beautiful lemongrass and a touch of locally grown lavender, the gin has incredible savoury lemongrass flavours, a silky mouthfeel and delicate floral notes.
To serve, we recommend you first try neat or with an ice cube, before moving on to explore with mixers. Each bottle is accompanied by a tasting guide with suggested serves.
Harrogate Gin 50cl £35, all stores
Ripley Castle Estate, Harrogate
Premium Harrogate Gin was created by married couple Steve and Sally in Harrogate. The botanicals for Harrogate Gin are sourced locally from Harlow Carr, the Royal Horticultural Society's garden in Harrogate and the water source is of course, Harrogate Spring Water.
You might have noticed our beautiful Otter (also known as Donnie) and wondered what he's all about. He's our Mascot, named after our youngest child – we love everything about otters here at Harrogate Tipple, especially that they're playful and only swim in the very best and cleanest of waters …

Amazingly, he was had drawn by a very talented young lady called Mila, who lives in South Africa – believe it or not she was 15 when she drew him. She was tasked with creating a playful and characterful otter, like the ones found in the rivers around Harrogate. She loved the opportunity of experiencing what it was like to be an illustrator and researched different species of otter for inspiration to perfect the image of Donnie in her head, before she took to paper. He started as a felt-tip doodle on which she rendered in his fine detail. She was able to build up his character ensuring his original charm shone out on paper. All of this while she was studying for her art and design practicals at school. Mila certainly brought Donnie to life and we are all amazed at her talent and creativity. She's definitely got a very bright future ahead of her and is one to watch out!
With pink grapefruit characteristics blended with a hint of Yorkshire lavender, serve with a light tonic, some pink peppercorns and a wedge of pink grapefruit.