Nigel's Tour O Booths and Tour 21 Training Update: April Edition – £20,489 raised so far
Written on April 23rd, 2021
---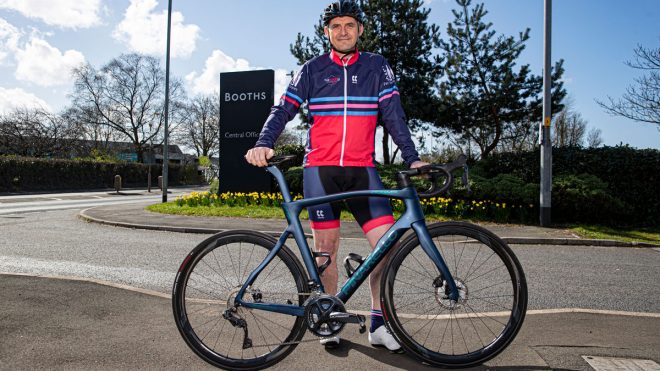 It's getting warmer but it's getting harder which means it's getting closer!
As I write it is exactly 2 months until 25 amateur cyclists push pedal in Brittany (all covid rules permitting of course) to take on the full Tour de France route one week ahead of the professional men's race…..it is also exactly 5 weeks until the 2021 Tour O' Booths starts with over 50 colleagues, suppliers and friends running and riding between all of the Booths stores and sites all to raise funds and awareness for the Trials Acceleration Programme funded by Cure Leukaemia.
Brighter days, lighter evenings and getting ever so slightly warmer ….British Summer Time has arrived !!!!! which means more time outside and away from the turbo trainer. I didn't start cycling to be able to be healthier whilst watching TV in the garage. Being fair, it has its place and is brilliant in the cold wet winter months, but bikes are made for outside and they can help with mental wellbeing every bit as much as physical wellness. Hibernation has ended and I've been able to get outside for some longer weekend rides and also some shorter mid-week ones too, albeit the first decent Sunday social was ridden in the snow…in April ??
In the March update I covered my progress on 2 key performance targets, weight and power. Despite being able to ride more outside it hasn't been a good few weeks. Both measures have stabilised, at best, and both need some concerted effort. I turn 51 this coming weekend and will allow myself to indulge to a degree. However come Monday my diet in particular needs to change and be fully rid of the delicious salty snacks, sweet chocolate treats, late day carbs and of greatest concern, beer and wine. IN fact I'm not looking forward to any of that !! I've been training and living with pain in both knees since January which is a constant issue and increasingly is taking the fun out of it. Physio Nick has been supporting and advising brilliantly however it is off to the knee doctor for me on Thursday to get some further checks.
To help with general on bike comfort and to optimise performance I visited NJD Sports Injury Centre last week. My work colleagues bought me a bike fit voucher for my 50th last year and I hadn't been able to get an appointment due to Lockdown since then. So finally I met Sports Therapists Nicola Dinsdale and her Dad, Nick who were supported brilliantly by emerging pro-cyclist Amy Gornall. A clinical examination (I'm very flat footed) and a full on-bike motion review (I'm bow legged) led to very limited changes to the bike set-up however we (Nick actually) then spent 2 hours rebuilding my cycling shoes by adding a range of Dinsdale-designed orthotics, and so far….. they appear to be very good. www.njdsportsinjuries.co.uk are based in Clitheroe if you are interested.
Training each week now looks like 200km-300km per week and around 15-20 hours when taking core and strength work into account. The aim is to gradually move that up to 400km by mid-May with a big week of near 800km in the Tour O' Booths week. Pilates is a real find, never done it before but I couldn't recommend it highly enough, and it is progressively hard, by the way !! Parts of the house now resemble a gymnasium however it has inspired the family. Whilst we have always been active we would never considered ourselves hugely sporty as a family (excl. Jack as he's football and bike mad) but we are all at it now…..even Bob the dog gets in on the act during the yoga sessions.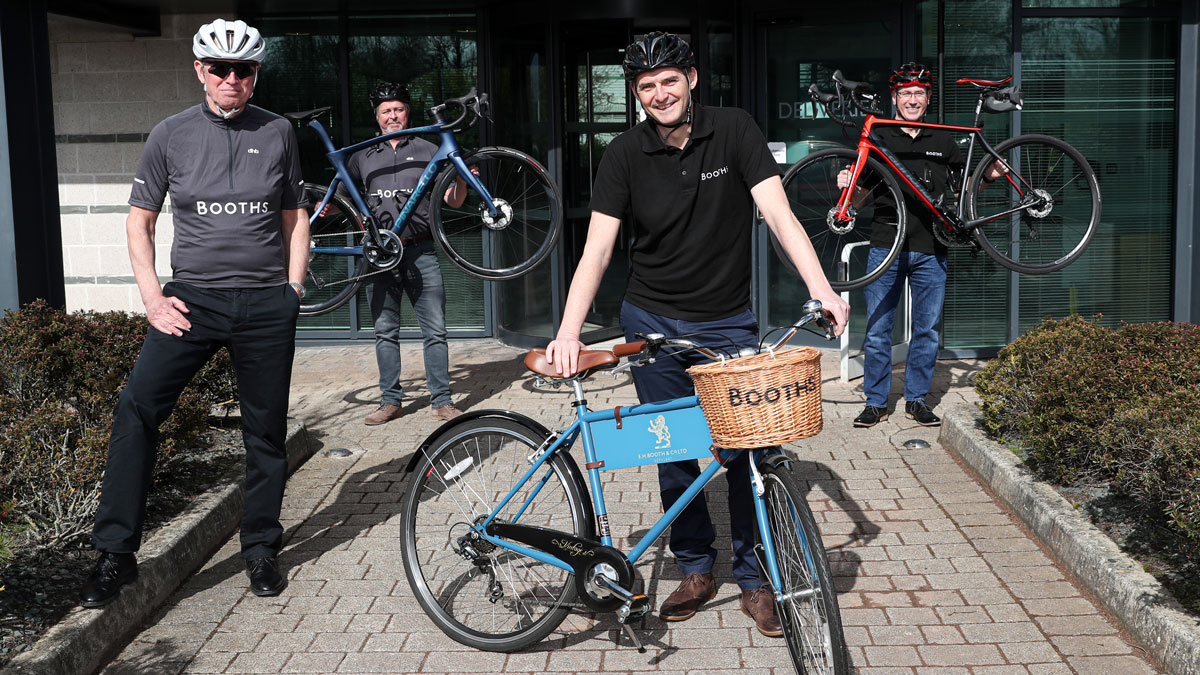 The Tour O' Booths pushes pedal on the 24th May and we are looking forward to a great week meeting friends and colleagues from across the business. It will be doubly special this year given the fact we have not be able to travel around stores anywhere near as much as usual in the past 12 months. That week kicks off for me on Sunday as, with friends, I tackle The Struggle Dales sportive then it's over to Preston on the Monday morning to start the 5 days of the Tour O' Booths which will cover c. 600 km and visit each of our stores and sites aswell as the cancer treatment centre at The Christie hospital in Manchester. The first Leg is also a running leg with over a dozen people running 10 miles between our central office and the first stop at our Riversway Fruit & Veg facility in Preston.
Fund-raising has lifted significantly in this last few weeks with donations coming in from friends & family, suppliers and the Tour O' Booths riders starting their own fund-raising efforts. It is only right to shine a light on one particular initiative by Bob Sutcliffe at BobonPaintings. My wife has known Bob since they were 3 years old, I knew him at upper school and I'm fairly sure he taught Edwin's daughters how to swim. He is a very good and close friend of the extended Booths family. A few years ago Bob had a heart attack and during his recovery period taught himself to paint, and paint very well. Bob now paints and produces greetings cards, sells them and donates all of his profits to charity. We have been working with Bob for a few years at Booths and just before Christmas he and I struck a deal that if we made his cards available in all stores he would contribute towards Cure Leukaemia. The cards went in to all stores by the end of February, they are selling very well and last week Bob donated £15,000 to Cure Leukaemia in addition to £4,000 across 2 other local Booths charities in Ulverston and Burscough. Simply put, he is an inspiration…. which brings me on to another source of huge inspiration.
James McLaughlin is the CEO of Cure Leukaemia. James has a really good mate, Mark. Mark has got involved with Cure Leukaemia events in the past such as London 2 Paris simply to support his mate and support the cause. In October last year, one of Mark's children, Hugo was diagnosed with a form of blood cancer just 3 weeks after his 5th birthday. Throughout Hugo's treatment Mark updates us from time to time. Now !! I've moaned about sore knees a few times and I'll be honest sometimes getting on the bike, doing a Pilates session, not having 'another' chocolate biscuit or beer feels like the hardest thing !…. it isn't, it simply isn't… I can't begin to put into words what Hugo, Mark and the rest of the family must be going through. I can't put it in to words because I haven't experienced it and can only begin to imagine how emotionally and physically challenging, draining and exhausting it must be. However I do know that Hugo takes great strength from the upcoming bike rides and follows the tweets and videos of the riders which give him strength. I've not met Hugo or his dad yet, however I know he is giving all 25 Tour '21 riders an incredible incentive to continue to get ready for the challenge ahead and once there, an incredible amount of determination to get through to Paris. Hugo personifies why we are all doing this.
I have significantly under-estimated what this challenge would mean both physically and emotionally. Believe me when I say, the preparation isn't easy or straight-forward and I'll let you know what the main event feels like at the time. And, contrary to what I know are very well meaning and well-intended goodwill messages, I know I won't 'smash it!' I will endure it and I will doggedly and determinedly accomplish it whilst finding positives along the way through new experiences and friendships. The preparations place a huge amount of pressure on work life and in particular family life and I will be forever indebted to Sue, Issy and Jack for their support and very often tolerance of the time that I don't have for them at the moment. Equally I am hugely proud, and humbled, by the way the teams at Booths have put themselves forward to support the cause and support me whilst I go through this experience. Having said all of that, let's be clear that every pedal stroke, every stretch, every plank, squat and lunge, every resulting ache and pain is absolutely worth it because every penny raised helps to save lives, it helps people like Hugo.
I think that's probably an appropriate way to end the April update. We have just 5 weeks to go until the Tour O' Booths…and 9 until The Tour '21 – I'll update on further progress in May and in the meantime we will introduce some more of the riders and sponsors who are taking part in the Tour O' Booths.
Thanks.
Nigel
Click here to visit Nigel's JustGiving page.
A huge thank you to our Tour O Booths brand sponsors: