Amazon Lockers Are Now In
Written on June 12th, 2018
---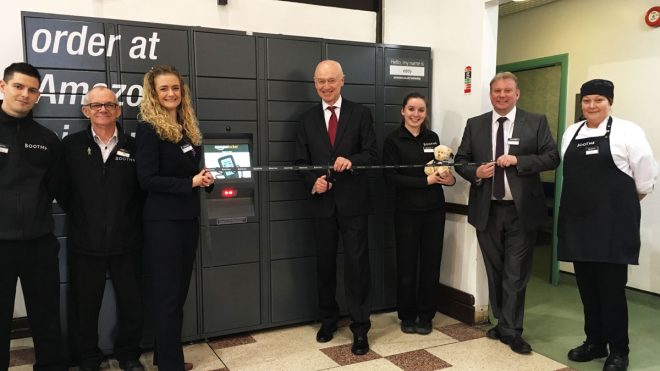 What Are They?
Amazon Lockers are self-service kiosks where customers can collect or return their Amazon parcels at a time that's convenient for them. Instead of delivering a parcel to your home or business address, you can select an Amazon Locker location and pickup your parcel at a time that's convenient for you.
Where Are They?

We're pleased to say that Amazon Lockers have now been installed at the following stores:
Longton
Hesketh Bank
Burscough
Clitheroe
Ilkley
Ripon
Fulwood
Penwortham
St Annes
Garstang
Kendal
Lytham
Hale Barns
Knutsford
Poulton
Chorley
In total, there are plans for 18 Amazon Lockers to be fitted in our stores, with the last few to come in the next few weeks.
Abby Talbot, Head of Booths Brand said,
This is a great addition to Booths. It means that customers who shop online at Amazon can use the secure, self-service Lockers to pick up their packages at their local Booths store.

This will have a positive impact on the communities around our stores as having easy access to an Amazon Locker means that people who aren't in their homes for the majority of the day can order online, with the reassurance that they can collect their items in store, at a time that suits them.
Chairman Edwin Booth joined alongside Abby Talbot Head of Booths Brand, and Darren Jacques, Store Manager, to mark the opening of a very special Amazon Locker "Eddy". Locker Eddy was named after Booths' very own mascot Eddy Teddy, whose namesake is Booths founder Edwin Booth. Locker Eddy has been installed at Clitheroe store, and is pictured at the top!
How Do They Work?
Once your parcel is delivered to the Amazon Locker, you'll receive an e-mail notification with a unique pickup code and the address and opening times for your selected Locker location. The code will also be available in the tracking information for your order.
When you arrive to collect your parcel, enter your pickup code or scan the barcode using the barcode scanner and follow the instructions on the screen.
All parcels delivered to Amazon Locker locations must be picked up within three days. If you're not able to pickup your parcel within this timeframe, the parcel will be returned to Amazon and you will receive a refund.
Currently, Lockers can accept parcels up to 42cm x 35cm x 32cm in dimension, with a maximum weight of 4.5kg. If the combined size, weight or dimensions of your parcel exceeds the size restrictions, you'll need to remove items or select a different delivery address.