Putting our Wine Selection to the Test
Written on September 21st, 2017
---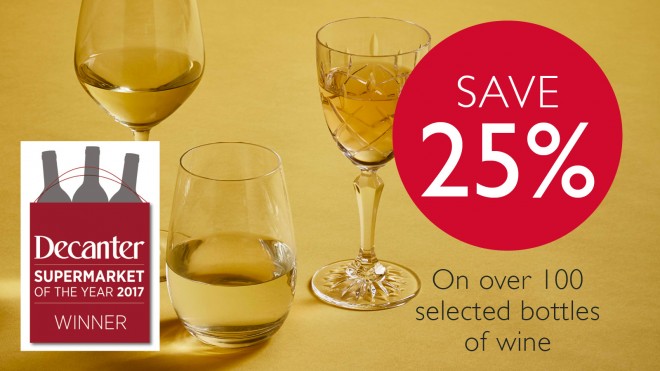 Our Autumn Wine Festival is now in store, save 25% on over 100 selected individual bottles of wine, with an extra 5% discount applied to purchases of six bottles or more (applied after any other discounts). The offer is available 04.09.17 – 01.10.17.

This week saw us hold our annual wine tasting event in London for independent wine experts and members of the press. We take a selection of our wines down and showcase them to a range of wine writers and independent experts, who taste and review them for publication throughout the year – you may have already have seen some of their top picks when reading the weekend papers. We firmly believe in the excellence of our wine offering, but we do like to put ourselves to the test and garner these reviews to help ensure our customers consistently get the very best recommendations in our stores. It's especially relevant at this time of year as thoughts turn to what festive wines need to be brought in for the winter season of celebrations.
The reviews have already started to come in, take a read of one here.
Our Autumn wine festival is all about helping you to discover something different. Our wine buyer Victoria has made it really easy to discover different wines you're guaranteed to enjoy, by classifying the wines by their characteristics, such as 'rip and fruity reds.' Take a look at this week's recommendations below, or simply browse our 'Discover Something Different' displays in store!

Tinta da Anfora, was £10.40, wine festival price £7.80
If your tipple of choice is usually a ripe and fruity red, this wine is ideal to try. A blend of native Portuguese grapes with a hint of Cabernet, showing rich ripe fruit with hints of chocolate, coffee and vanilla from 12 months oak ageing.

Casalotta Durello, was £9.95 wine festival price £7.46
A great alternative to Prosecco if you want to try something different. Very similar in style with a little more apple flavour than the peachiness of Prosecco.

Domaine Felix St Bris, was £12.35, wine festival price £9.26
If you're partial to a Sauvignon Blanc, we'd urge you to give this wine a go! Fun fact about St Bris, it is located in Burgundy, which is best known for producing white wines from the Chardonnay grape. However, in St Bris, the only white grapes allowed are Sauvignon Blanc and Sauvignon Gris, making it a bit of an oddity in the region.
Please note that products may only be available in larger stores – please feel free to give us a call if there's a particular wine that's taken your fancy to check that we have it in. Find your nearest store and their contact details by clicking the button below: