Ready, Set, Cook!
Written on May 11th, 2017
---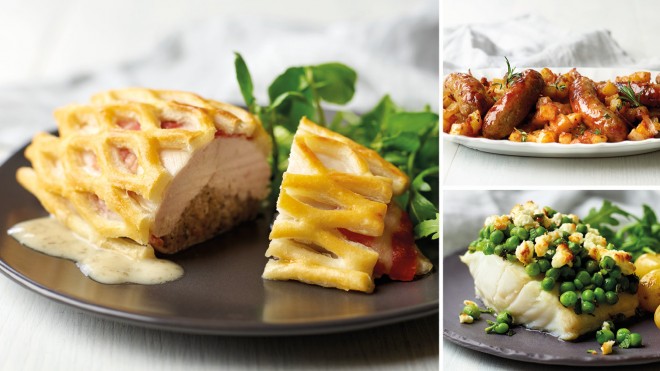 Have you spotted the newest additions to our ready-to-cook range, now in store? We've added some delicious options to the range to help make evenings more hassle-free than ever. All of our ready to cook options, aside from the fish dishes, are made by us at our Preston base. Our fish options are made for us by Bleikers, based in Yorkshire. Read on to hear more about some of our favourites in the new range!
Our Hindle Wakes Chicken is our take on a traditional Lancashire dish eaten over the wake week holiday. If you've not heard of it before, it's a many centuries old English recipe of chicken stuffed with prunes. Our version contains British chicken breasts with herb, date and pork stuffing, wrapped in streaky British bacon, topped with lattice pastry and a white wine sauce.
Our Victorian Sausage Bake uses our delicious Victorian pork sausages (perfect in a full English if you haven't tried them yet!). Based on recipes from the 1800s, these delicious sausages are made by us in Preston with outdoor-bred British pork, seasoned with white pepper, coriander, mace and nutmeg. We then pair them with a rosemary, thyme and tomato sauce, 
 diced potatoes and red onion wedges to create our ready to cook bake. Perfect with some steamed veg on the side!
Our brand new fish additions are each made to serve one. Choose from smoked Haddock Florentine; smoked haddock on a bed of spinach, topped with a creamy Cheddar cheese sauce, crisp breadcrumbs and grated Cheddar cheese, or our Cod Loin with Minted Petit Pois & Feta topping.
We'd love to hear what you think if you try them – get in touch via social media @BoothsCountry, or send us a message using our contact form here.