Open Smoked Haddock and Leek Omelette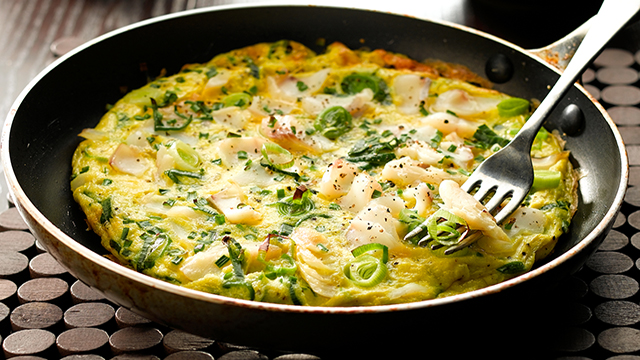 1 servings
25 mins to prepare
Ingredients
100g natural smoked boneless haddock
1/2 leek, washed and thinly sliced (white end of leek)
3 large eggs, lightly whisked
1tbsp double cream
1tsp fresh chopped chives
25g Booths Farmhouse butter
Salt
Milled pepper
Instructions
Pre-heat the grill, then place the fillet of haddock onto a plate, add 2 tbsp of water, cover with cling film and microwave for 2-3 minutes, leave to cool and flake into small chunks.
Gently cook the leeks for 5 minutes in the butter until soft. Add the cream to the eggs, lightly season and pour over the leeks. Leave to cook for 1 minute on a low heat.
Finally, scatter over the haddock flakes and chopped chives, pop under the grill for 1-2 minutes and serve with Booths ready prepared crispy green salad for a really tasty lunch or light dinner.
Got some left over smoked haddock? Try these recipes:
Smoked Haddock and Sweetcorn Chowder