#SillySumoSelfie Winners!
Written on November 1st, 2016
---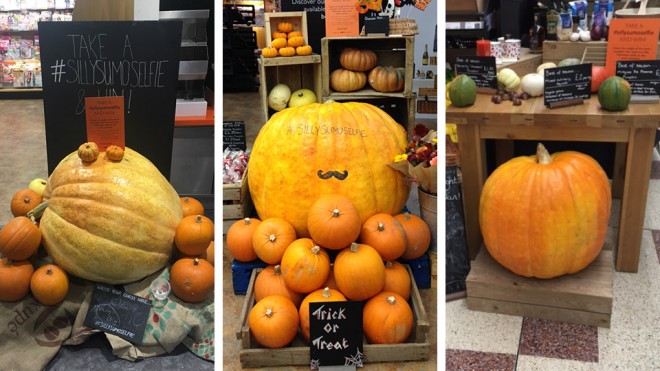 Thank you to everybody who took part, we've thoroughly enjoyed your pictures! Drumroll please…the winners & weights of the sumo pumpkins are:
KESWICK – 79kg
Peter Cook (Thomas Cook), Facebook, 78.8kg
KNUTSFORD – 151kg
Judith Brammer, Facebook, 130lb (59kg)
PENWORTHAM – 69kg
HelenM66, Instagram – 75kg
ULVERSTON – 76kg
Ferdmcd, Twitter 322lbs (146kg)
ILKLEY – 180kg
catwomanga, Twitter, 153kg
WINDERMERE – 61kg
Midgetgem1066, Instagram, 60kg
BURSCOUGH – 50kg
George Phillips-Kirwin, Facebook, 60kg
LYTHAM – 116kg
Nick Charnley, Facebook, 112kg
ST ANNES – 163kg
sukieart1, Twitter, 22st 5lb (142kg)
HALE BARNS – 101kg
deeolares, Twitter, 97kg
POULTON – 61kg
Mike Peat, Facebook, 63.8kg
CLITHEROE – 55kg
kiracammi, Twitter, 57kg
FULWOOD – 184kg
paul_m_williams, Twitter, 197kg
KENDAL – 98kg
Jo Rigg, Facebook, 66kg
KIRKBY LONSDALE – 80kg
robmaxuk, Twitter, 84kg
LONGTON – 59kg
Carole Rostrom (Sam), Facebook, 65kg
SETTLE – 90kg
Emma Carr, Facebook, 28lb (13kg)
SCOTFORTH – 80kg
ronaldhummelink, Twitter, 78kg
GARSTANG – 90kg
carrieawalton, Twitter, 96.9kg
RIPON – 103kg
Yara Gremoli, Facebook, 78kg
MEDIA CITY UK – 26kg
Andrew Babbage, Facebook, 43.5kg
PENRITH – 60kg
Sue Roxby, Facebook, 45kg
CARNFORTH – 111kg
quinny898, Twitter, 14.42kg
CHORLEY – 138kg
rawlsbreakfast, Twitter 156.5kg
BARROWFORD – 114kg
twinmummyl, Twitter, 59kg
HESKETH BANK – 115kg
Nelson Castanho, Facebook, 98.6kg
MILNTHORPE – 132kg
maleysean, Twitter, 110kg
LONGRIDGE – 98kg
tommy_bomb, Twitter, 85kg
Congratulations to all of our winners, please send us a DM with your postal address to claim your prize!