The best our region has to offer this Christmas
Written on October 31st, 2013
---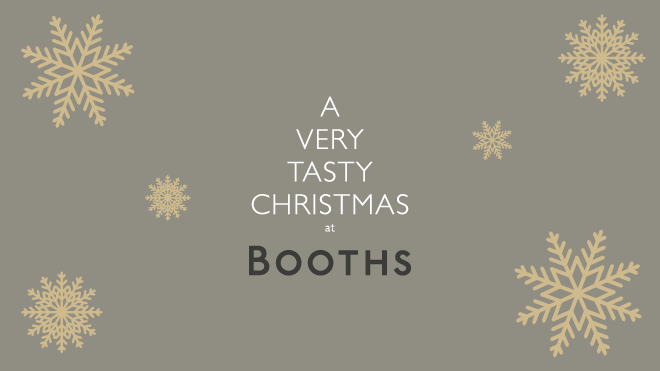 Christmas comes with a lot of paperwork. The cards, the letters to Santa, the gift tags. But at this time of year, Booths customers know that picking up a pen (or selecting boxes online) can be a great pleasure.
The route to easy Christmas eating goes like this. First, kick back with our gorgeous Christmas book, and perhaps a glass of sherry. Then, choose the products you don't want to miss, whether it's a Furness venison box, a Forman's blini kit, a veg box or one of our free range turkeys. Order by December 15th online or in store, using the form at the back of the book, choose your collection day, and then relax.
Our customers tell us they love our Reserve and Collect service, and with good reason. We work closely with small producers and many of their special Christmas products are in limited supply. Ordering early means getting exactly what you want. Because we ask for a £10 deposit for each item ordered, you'll spread the cost of the big shop. And you can choose your collection day to fit in with your plans.
Our Christmas collection dates are Sunday 22 December, Monday 23rd December and Tuesday 24th December before 3pm. And for New Year – a great opportunity to investigate our best Booths beer boxes, Champagne, party food and sweet petit fours – you can collect on Monday 30th December or Tuesday 31st December before 3pm.
You don't have to be hosting Christmas to gain a strategic advantage from Reserve and Collect. Our tea, coffee and chocolate selections make great thank-you gifts, and this year we have hampers, too available to order online from 11th November. Collect one on the way to family and friends and you'll be more welcome than ever. It's also a great way to keep foodie gifts fresh – order a cheese box for a fromage fiend or make a grand porcine gesture with a whole Serrano ham, and it'll be waiting for you, in perfect condition, on collection day. But once you know what you (and they) want, don't hang about. Reserve and Collect closes on December 15th, and it'll be here before we know it.
Reserve and Collect now for Christmas.