The Boho Baker's Blog: Unusual Jam
Written on May 10th, 2019
---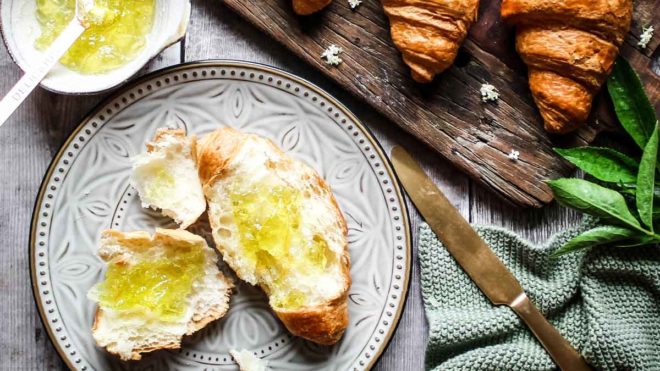 Hello there, bakers!
It was wonderful to meet so many of you at the Booths Chocolate events over the Easter break, I cannot tell you how lovely it was to hear about your own baking exploits. It's been a bumper month of baking for me now that wedding season is in full swing, it's left me feeling like I could do with a break from cake (fear not, this feeling only ever lasts a few hours), so I was really excited to receive this request by Joanna:
"Can we have some recipes for unusual preserves please? I'm tired of strawberry jam!"
Although strawberry jam is, for me, the pinnacle of preserves, it can get a little repetitive. Fortunately, my recipe note book is jam packed (sorry) with recipes for a wide range of preserves that can be used to brighten up your breakfast, fill a home baked cake, or slathered over waffles, pancakes, whatever takes your fancy. I understand that they can be a little daunting if you've not attempted them before, so here is my quick and easy guide to preserve perfection:
What equipment do I need?
All you need is a heavy based pan, some sterilised jam jars, a wooden spoon, and either a sugar thermometer or a cold saucer to check the setting point.
What fruit and sugar should I use?
Any fruit will do, it doesn't matter if it's a little wonky or at the end of its life, it's fine as long as it hasn't gone bad. The fruit you use dictates what sugar you need: fruit that is high in pectin (which aids in setting) is best paired with preserving sugar, whilst fruit that is low in pectin is best combined with jam sugar. You can always use regular sugar and add your own pectin or lemon juice, although I tend to add a little lemon juice even when I'm using jam/preserving sugar as it helps prevent the growth of bacteria. If you're unsure as to what jam to use, check the packaging before purchase.
What is the difference between jams, marmalades and curds?
Generally speaking, jam is made with whole fruit that is cooked to a pulp with sugar. Marmalade has a thicker, jelly like texture, whereas curds contain eggs and butter, culminating in a thick, creamy spread. Curds are usually cooked in a double boiler (a bowl suspended over a pan of simmering water), but there is the odd exception such as my banoffee curd recipe below. Jams and marmalades are cooked in a regular, heavy based pan.
How do I sterilise the jars?
Although I strongly advocate reusing glass jars that would otherwise be destined for the recycle bin, it is imperative that you sterilise the jars immediately before use, even if you have washed them before. Wash the jars in hot, soapy water, before placing them on a baking sheet and leaving them to dry in an oven set at 120C/100C (fan)/gas mark ½ for 15 minutes. Pour your preserve into the warm jars and add the lid immediately.
When should I remove the pan from the heat?
The easiest way to test jam and marmalade is by using a sugar thermometer, just remove the pan from the hob when the temperature reaches 105C.
If you don't have a thermometer, pop a saucer in the freezer when you start making your jam. Drop a small blob of jam onto the cold saucer and tilt it side to side. If the jam doesn't run more than a couple of centimetres, it's ready. Alternatively, push your finger through the jam on the plate to see if it "wrinkles" on the surface. If it wrinkles slightly and doesn't flood to fill the gap made by your finger, it is ready to be ladled into jars.
With regards to curds, you can identify the setting point by checking if the curd is thick enough to cover the back of a wooden spoon. Run your finger through the curd on the spoon (once it is cool enough to do so). If your finger leaves a trail, the curd is ready to be removed from the heat.
If your preserve hasn't reached setting point at the time of checking, simply pop the pan back on the heat for a further 3 minutes before checking again. Repeat until the setting point has been reached.
Now we've covered the basics, let's get jamming!
Recipes:
Pina Colada Jam
You're welcome to make this sans rum if you wish, just add a little extra shredded coconut. In the very early days of my baking career, I sold more Pina Colada jam than cakes, thanks to the army of students who claimed it was "the ultimate hangover cure". I cannot 100% verify its status as a panacea for a heavy night, but it's certainly delicious melted into hot pancakes on a Sunday morning.
1.5kg pineapple, chopped
1kg jam sugar
25g shredded coconut
Juice of one orange
Juice of one lime
200ml water
50ml coconut rum
Method:
Combine all the ingredients, with the exception of the rum, in a large, heavy based pan. Gently heat for 10 minutes, stirring intermittently to ensure that the sugar dissolves into the liquid.
Increase the temperature and bring the jam to a rolling boil that cannot be stirred down. Allow the jam to boil for one minute, removing any foam with a slotted spoon. Remove the pan from the heat before stirring in the coconut rum.
Ladle the jam into jars whilst it is still hot, leaving approximately 1.5cm of space at the top of the jar. Seal the jars with lids immediately and leave to cool overnight before serving.
Store any unusual jam in a dark cupboard and enjoy within 12 months.
Banoffee Curd:
Whilst most curds are made in a double boiler, this one can be whipped up in a non-stick pan in no time at all. I've topped mine with some banana slices dipped in brown sugar and blasted with a blow torch, although fresh banana is just as gratifying.
2 large, ripe bananas
150g golden caster sugar
60g dark brown sugar
55g unsalted butter
2 eggs, beaten
Zest of one lemon
Seeds from one vanilla pod
Method:
Puree the banana by either using a food processor or mashing with a fork. Stir in the lemon zest and vanilla seeds.
Pour the puree into a heavy based pan, adding the brown sugar, golden caster sugar, and butter. Gently heat, stirring until the butter has melted and the sugar has dissolved.
Increase the heat until the mixture starts to bubble, supervising the pan at all times. Add the egg a little at a time, whisking continuously. The curd should be thick and glossy.
Remove the pan from the heat and immediately transfer the curd to a lard sterilised jar. Pop the lid on top and leave to cool completely before serving. Keep refrigerated and enjoy within two weeks.
Cherry & Amaretto Jam:
This versatile preserve is beautiful in tarts, on a slice of brioche, or you could make an almond sponge (substituting part of the flour for ground almonds) to make a cherry bakewell cake. If you prefer a smooth jam, mash the cherries with a fork after chopping.
700g cherries, stones removed
400g jam sugar
4tsp lemon juice
4tsp Amaretto
1tsp vanilla extract
Method:
Chop the cherries into small pieces and toss them into a heavy based pan along with the jam sugar and lemon juice.
Start by heating gently until the sugar has dissolved and the fruit is starting to give up its juices. Gradually increase the heat whilst stirring continuously, until the jam hits a rolling boil that cannot be stirred down (this should take approximately ten minutes).
Once the jam has reached setting point, remove the pan from the heat and stir in the Amaretto and vanilla extract. Immediately decant the jam into two large sterilised jam jars and seal. Store in a dark cupboard and enjoy within 12 months.
Lime, Gin & Elderflower Marmalade:
I appreciate that it's starting to look as though this month's blog is one long advocation for alcohol on toast, but I couldn't write about preserves and not include this recipe. If you don't have any elderflower cordial to hand then this recipe is still lovely without it, but the elderflower does add a light floral lilt that compliments the lime beautifully. You can also substitute the lime for lemon if you wish, just make sure that you use 1kg of fruit in total.
1kg limes
1 litre water
1.5kg preserving sugar
70ml elderflower cordial
50ml gin
Method:
Squeeze the juice from the limes into a large, heavy based pan. Carefully scrape the pulp from the limes and wrap it up in a square of muslin along with the pips. Securely tie the corners of the muslin and pop it in the pan. Add the water.
Finely chop the lime peel and add it to the pan. Bring to a boil before reducing the heat and leaving the jam to simmer for one hour. I find it best to pop a lid on the pan for the first 45 minutes before removing it for the remaining 15.
Remove the muslin bag from the pan, giving it a good squeeze to release any juices. Add the preserving sugar and elderflower cordial. Gently heat until the sugar has dissolved, before increasing the heat and allowing the marmalade to boil for 20 minutes, or until it has reached setting point.
Stir in the gin and allow the marmalade to cool for 10 minutes before decanting into jars. Store in a dark, cool place and enjoy within 12 months.
Feel free to switch and substitute ingredients as you go, the wonderful thing about preserves is they're rather difficult to get wrong. Play around and have fun with it, that's what cooking is all about.
Happy baking!
Who is The Boho Baker?
The Boho Baker describes herself as "Baker. Writer. Forager. Wanderer. Organic ingredient and edible floral Enthusiast. Member of the Guild of Food Writers." Very local to our HQ in Preston, she's our fabulous professional guest recipe writer, and champion of celebrating the best of our local produce. Follow her on instagram @thebohobaker
Would you like your question answered next month? Simply fill in the form below: