The Booths Big Wine Event – If you like, then you'll love…
Written on October 22nd, 2013
---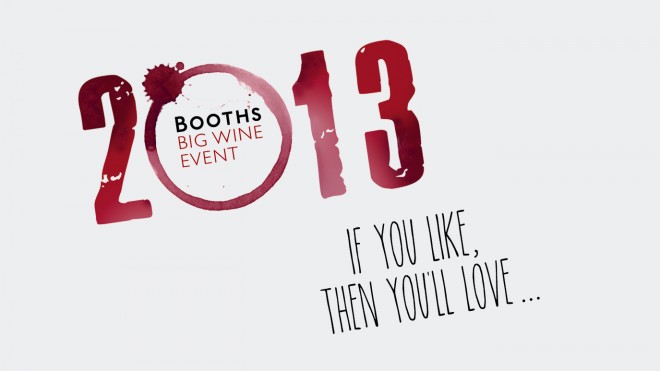 One of the great pleasures of good wine is making new discoveries. We all have favourites, but during our Big Wine Event, which runs until November 5th, may we suggest you make the leap from the familiar to the new? Our passionate wine team have plotted the route for you with suggestions for different grapes or vintages that'll take you a step further towards oenological nirvana. If you like full-bodied, zippy Villa Wolf Pinot Gris from Pfalz in Germany, for example, you might well love Booths' aromatic, zesty French Riesling. If you usually go for a Rioja, why not try our 2004 Booths Rioja Reserva, aged in oak for aromatic, dense and concentrated fruit?
Our experienced wine team know that certain occasions demand certain wines, and with this in mind they've also put together a selection of bottles to share or savour depending on your mood. To go with your favourite film, they recommend Yalumba Y Series Shiraz and Viognier, with its vibrant floral notes, while well-crafted Catena Malbec, with layers of lush fruit, is the perfect bottle for sipping very, very slowly. We've never seen any of our wine buyers doing yoga, but if you do, the team recommend savouring Robert 'Bob' Oatley's peachy Signature Margaret River Chardonnay after a class.
Whichever occasion you have in mind, we're offering our best ever deal during the Big Wine Event. A bottle of Prosecco Polloni DOC will be yours each and every time you buy six bottles of wine or Champagne until November 5th. You'll also get our regular discount of 5% when you buy six bottles, but Booths cardholders also get an extra 5% on top, too. This will be stored on your card and you can add to it every time you shop. When you reach £5 we'll send you a voucher to that value to spend in our stores. It's a deal worth savouring – along with the wine, of course.
View our wine newspaper here.