Vegan & Gluten Free Beer at Booths From First Chop
Written on June 13th, 2018
---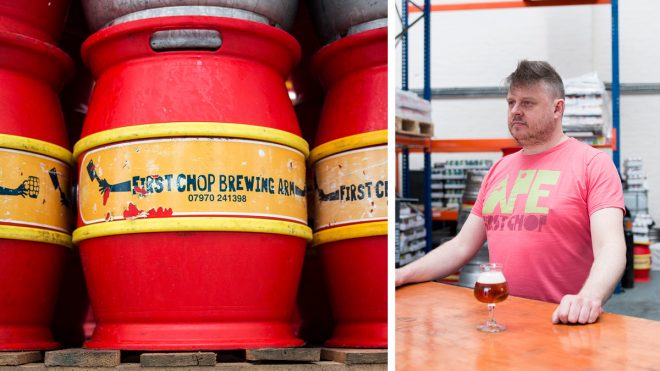 Pictured: Rik, Owner of First Chop Brewing Arm
First Chop Brewing Arm was established in 2012 and now produces over 80,000 litres of gluten free, vegan beer per month from their brewery in Salford – that's 35,000 pints per week! We're very pleased to welcome First Chop into the majority of our Booths stores.
First Chop is beer for everyone – gluten free and vegan. There is no place for gluten in any beer so we make sure we remove any last trace – we test to show a gluten content of below 5 PPM (parts per million). This doesn't make our beer taste any different, it is just testament to our stringent quality procedures. Good quality beer is gluten free, our many awards are proof of that. We test every batch so anyone with a gluten allergy or intolerance has that peace if mind.

First Chop is leading the way in gluten free craft beer production*. With a full range of gluten free beer available in cans, bottles, kegs and cask. First Chop offers gluten intolerant craft beer lovers a real choice in what they drink.
*All certified and approved by the coeliac society and carrying the cross-grain symbol.
Our beer buyer Pete says of the range,
First Chop are one of the new and exciting local craft brewers we've recently welcomed into our Booths stores, making excellent beer that's also gluten free! Come in store and try them
THE RANGE

JAM 330ml, £2
Pale amber in colour, this is not a fruit beer, but a beer with fruit. The malt base creates sweetness to compliment the mango infusion. It's a perfect summer beer- refreshing and goes well with light flavours such as pizza, pork dishes or grilled fish.
Not available at Clitheroe or Hale Barns stores
HOP 330ml, £1.80
Ultra pale yet with a wonderful subtle malt character from the floor malted Maris Otter. Pleasant bitterness that goes well with most dishes, especially burgers, salads and picnic foods – ideal for the summer!
Not available at Clitheroe store
POP 330ml, £2
A big, hoppy US style IPA, pale amber in colour with orange and spicy hop notes. Orange citrus burst from a 'dry hopping' with orange oils. Goes well with oily fish such as salmon or mackerel, and with grilled meats, so a fabulous partner to your BBQ or perhaps a hearty stew.
Not available at Clitheroe store
SUP 330ml, £1.80
Pale amber, IPA style with a lower abv. but no holding back on the hops. Big tropical fruit notes with a spicy, resinous, smooth bitter finish. SUP goes well with a lot of dishes – especially well with Sunday roasts and any beefy dishes, such as steak, BBQ or a hearty stew.
Not available at Clitheroe or Hale Barns stores
Why not treat Dad to a First Chop selection this Father's Day?