Victoria's Top 10 Christmas Wines
Written on December 4th, 2015
---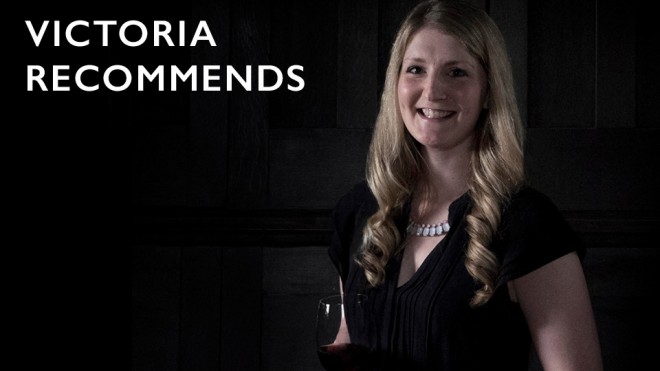 Victoria Di Muccio is Booths wine buyer, and has been for two years now. She learned her trade working for a fine wine merhcant in London, gaining her diploma from the Wine and Spirit Education Trust in the process. Victoria says:
First and foremost, it's about quality. I taste thousands of different wines every year to pick out the wines that offer the best quality and value. I particularly like to hunt for little gems from up-and coming regions, and to work with smaller producers and family growers. It resonates with our values at Booths, and enables me to access smaller and unique parcels of wine.
With a huge range of 800 wines at Booths, there's an awful lot to choose from! We asked Victoria for her recommendations this Christmas for the perfect accompaniment to the festivities, so read on below for inspiration.
MY FAVOURITE
Paul Cluver Noble Late Harvest Riesling, Elgin, South Africa
This stunning sweet wine hails from the cool climate region of Elgin in South Africa, and is grown on an estate which forms part of a UNESCO World Heritage Site. The Riesling is made from grapes affected with botrytis and harvested late, so that the grapes shrivel, concentrating the sugars and flavour. This gives it complex aromas of apricot, orange blossom, passion fruit and honey. The wine has amazing balance and a luscious, creamy palate with a zippy Riesling finish.
This would go beautifully with an apricot or mango-based dish, and I especially love it with soft blue cheese or even just a glass on its own instead of pudding – it's enough of a show-stopper.
MODERN CHOICE
The Crossings Pinot Gris, Awatere Valley, Marlborough, New Zealand
Sometimes it's good to be reminded that New Zealand is not all about Sauvignon Blanc. This Pinot Gris is produced in a cool, dry, windy area of Marlborough, where it's a common sight to see sheep grazing the vineyards to keep down the grass and weeds. Here, the warm, sunny days and cool nights give the perfect growing conditions to ensure maximum ripening and intense flavours. The result is a wine full of fruity flavours of white peach, pear and melon with some delicate honey characters. It pairs well with creamy chicken and seafood dishes and strong, hard cheeses such as parmesan.
TRADITIONAL CHOICE
Pol Roger Brut Réserve NV, Champagne
You can't get more traditional than a glass of Champagne at Christmas and this one is a personal favourite. Pol Roger has been producing exceptional Champagne for 160 years, and remains a small, family-owned and fiercely independent Champagne House. It's the depth of their cellars which makes their Champagne so special: the deepest is 34m below ground, with a natural temperature of 9°C or less (a normal cellar temperature is 11-12°C). This prolongs fermentation and contributes to the quality and the famously fine bubbles. All of the Champagnes are still riddled (the process of moving the sediment into the neck of the bottle) by hand, a process which can take up to 10 weeks. The three grape varieties used are perfectly balanced: Pinot Noir brings structure, body and power, Pinot Meunier ensures freshness, roundness and fruitiness, and the Chardonnay grape adds aromatic complexity, finesse and elegance.
WHAT TO DRINK WITH TURKEY
Kumeu River Estate Chardonnay, Auckland, New Zealand
The estate was established in 1944 and is now run by the third generation of the Brajkovich family, in the cool climate near the Tasman Sea. If you like Burgundy but not the prices associated with it, then this is definitely one to try. The producer has come up trumps in blind tastings against top Burgundian whites and this is widely regarded as some of the best Chardonnay in New Zealand. The Estate Chardonnay has flavours of apples and lemons with a touch of peach and hazelnuts, giving it a richness that makes it the perfect partner to roast turkey with all the trimmings. It's also exceptional value.
WHAT TO DRINK WITH BEEF
Rustenberg RM Nicholson, Stellenbosch, South Africa
Founded in 1682, this estate in fact outdates Bordeaux in terms of winemaking history. Run by the Barlow family, it sits in the premium South African wine growing region of Stellenbosch. The RM Nicholson is a beautiful wine which will appeal to Bordeaux and South Africa lovers alike. It's made from Bordeaux varietals with some Syrah in the blend to add softness. The flavour is pure and vibrant, full of blackcurrant with notes of dried herbs and black pepper. This is a robust wine with tannins to match up with any piece of quality beef.
WHAT TO DRINK WITH GAME
Gevrey Chambertin Clos de La Justice, Vallet Frères, Burgundy, France
'Clos de la Justice' is a single, walled vineyard, wholly owned by the Vallet family. This stunning example of Pinot Noir couldn't be mistaken for anything other than Burgundy. Very traditional in style, it has cherry and plum fruits, with an earthy, underlying spice interwoven and a delicate perfume. Layered, complex, indulgent, it pairs well with game birds, in particular richer ones such as grouse, pheasant and duck.
WHAT TO DRINK WITH FISH AND SEAFOOD
Lagar de Cervera Albariño, Rias Baixas, Spain
Albariño is a distinctive high quality, aromatic grape mostly grown in Galicia where it thrives in the cool, damp, maritime climate. This wine has an aromatic nose, some tropical aromas, ripe citrus fruits and quince. Fresh and lively on the palate with a creamy and complex finish, pairing it with seafood, especially shellfish, makes it really sing.