We Take On a Tour O' Booths For MIND
Written on August 22nd, 2019
---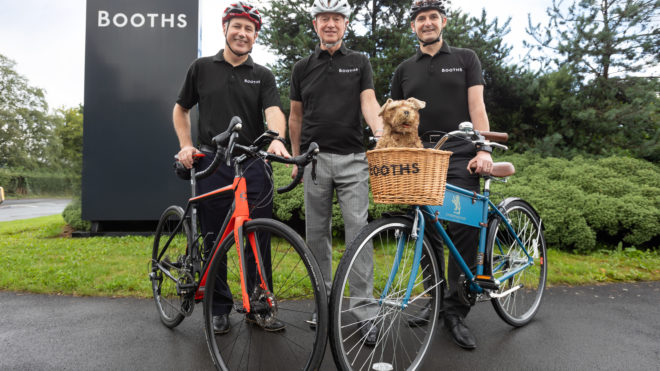 Pictured from left Damien McDonald, Edwin Booth and Nigel Murray
We are planning an epic charity bike ride to promote wellbeing and raise valuable funds for mental health charity, Lancashire MIND.
Tour O' Booths will take place over 5 days across our Booths Country counties from Monday 30th September to Friday 4th October, taking in all 28 stores and our HQ sites along the way. The idea comes from our COO Nigel Murray, who is a keen cyclist with a growing interest in how physical health supports positive mental wellbeing:
Good mental wellbeing is essential to cope with daily stress and to accomplish personal and professional goals. This tour is about raising awareness of mental health in the workplace, and the role that nutrition and physical wellbeing can play whilst raising funds for mental health charity MIND along the way.

Nigel Murray, COO of Booths
Each stage is themed with a principle to promote good mental health, and the Tour is being supported through sponsorship from a number of Booths supplier partners. Our main sponsor is Eat Natural, with our other partners supporting our stages:

Stage 1: Healthy Start

30.09.19: Ripon to Settle via Ilkley, Barrowford and Clitheroe.
Stage 2: Resilience

01.10.19: Penrith to Ulverston via Keswick and Windermere
Stage 3: 5 A Day

02.10.19: Kendal to Longridge, via Milnthorpe, Kirby Lonsdale, Carnforth and Scotforth.
Stage 4: Balance

03.10.19: Knutsford to Penwortham, via Media City, Hale Barns, Chorley, Burscough, Hesketh Bank and Longton.
Stage 5: Achievement
04.10.19: Fulwood to Central Office via Garstang, Poulton, St Annes, Lytham, Riversway and Bluebell Way including the family "Big Booths Bike Ride" for colleagues and their families along the Guild Wheel between the Booths Riversway and Bluebell Way distribution centres.
If you'd like to help us support MIND via our just giving page, tap here to visit our fundraising page.
It's ok not to be ok – if you need support with your mental health, tap here to visit Mind's website where you will find lots of resources to help you.

Tap here to visit the NHS website which has a number of additional resources listed.
Update – 7th November 2019
We're very pleased to say that the Tour went well, raising a massive £18,000 in total.
The experience has been quite amazing. It's not just about the fundraising. If just one conversation starts in the workplace, and someone gains help, then we have made a difference. I'm very proud of my colleagues at Booths.

The support from colleagues, suppliers and customers has been remarkable. It's brought our teams closer together and has helped open a dialogue about well-being in the workplace and the practical steps we can all take to look after both our own mental health and support our friends and colleagues in the workplace.

Nigel Murray
At Lancashire Mind we are trying to lead a revolution in terms of mental health and wellbeing but we can't do it on our own. That's why it's so great to see that Nigel has started something big here. We already knew that Booths are an employer that cares about mental wellbeing. However they are taking it to the next level now, with the whole company getting behind this initiative. They are sending a message that we need to start conversations about wellbeing to help ourselves and each other. Wouldn't it be great if every employer could do that too?

Tommy McIlravey, CEO at Lancashire Mind
We plan to make the Tour an annual event open to colleagues, suppliers and supporters to ride and make a difference to people's lives.