WIN A Hamper of Curry Goodies with The Spice Tailor This National Curry Week
Written on October 22nd, 2018
---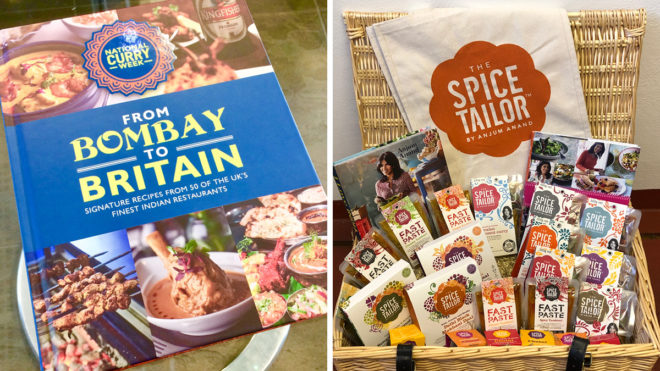 Would you like to WIN a hamper of goodies to make delicious curries at home the easy way? The Spice Tailor champion proper Indian food in the world of convenience, with a delicious range of sauces, daals and naans stocked in Booths so you can create authentic tasting Indian dishes at home with ease. They've generously put together a gorgeous hamper of their goodies for us to give away to a lucky winner this National Curry Week! Made with fresh ingredients, cooked in small batches with no artificial colours, flavours, preservatives or fillers, the lines below are some of our favourites currently stocked in all Booths stores:

The Spice Tailor Keralan Coconut Curry Kit 225g, £2.20 until 06.11.18
This Keralan Coconut curry is a mild-mannered but full-flavoured curry with all the flavours of the coast that speaks of its provenance. It is fantastic with fish, seafood, chicken, vegetables, eggs and so much more.
The Spice Tailor Original Tikka Masala Curry Kit 300g, £2.20 until 06.11.18
Original Tikka Masala is a really beautiful curry with lots of depth of flavour to be found in the creamy, mildly spiced tomato-based sauce. Perfect with a hot naan and a crunchy kachumber salad.
The Spice Tailor Punjabi Tomato Curry Kit 300g, £2.20 until 06.11.18
This sauce is often used in creating the most popular everyday curries, from paneer curry to chicken or fish. It is a really versatile curry and a bit of a chameleon as it will morph to match whatever you add to it.
The Spice Tailor Southern Pepper Curry Kit 300g, £2.20 until 06.11.18
The flavours of our Southern Pepper Curry are full-bodied with a tomato-based sauce, flavoured with curry leaves, mustard seeds and, of course, black pepper. It goes wonderfully with chicken, prawns, seafood, pork, mushrooms, eggs, aubergine and much more.
The Spice Tailor Rustic Rogan Josh Curry Kit 300g, £2.20 until 06.11.18
Their Rogan Josh is loud and proud and you will bite into little bites of tomato, ginger, coriander and more as you mop up the last scraps from your plate!
To enter our draw to win an amazing hamper of selected Spice Tailor goodies, or one of 3 runner up prizes of 'From Bombay to Britain,' National Curry Week's official recipe book containing recipes from 50 of the UK's finest Indian restaurants, just enter your details below. Terms and conditions apply, find them by tapping here (opens in a new window):