Winner for Dinner
Written on August 9th, 2017
---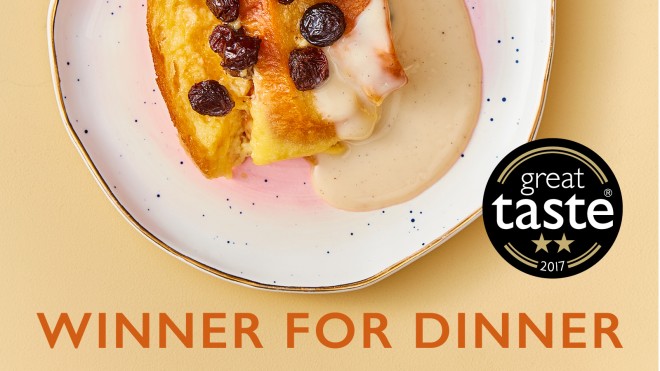 We're very proud to say that a selection of our Booths own brand products have won Great Taste Awards 2017. For those of you unfamiliar with exactly what the great taste awards are:
Great Taste, organised by the Guild of Fine Food, is the acknowledged benchmark for fine food and drink. It has been described as the 'Oscars' of the food world and the 'epicurean equivalent of the Booker prize'. Quite simply the Great Taste logo is the sign you can trust when buying food and drink in your local, quality retailer.
Find out more about the awards here.
A selection of seven of our Booths own brand products have each won either 1 or 2 stars, so you could enjoy an award-winning fuss-free dinner tonight!
What do the stars mean?
You can win between 1 and 3 stars in the Great Taste Awards, the definitions of which are:
1 star: simply delicious. A food that delivers fantastic flavour.
2 stars: Outstanding. Above and beyond delicious – less than 15% of entries will achieve this rating.
3 stars: Extraordinarily tasty foods – less than 3% of products are awarded 3-stars each year – don't leave the shop without buying it!
The Winners

Booths Macaroni Cheese, 400g £2.95 – 2 Stars
Macaroni pasta in a cheddar cheese sauce, topped with mozzarella and an Italian hard cheese crumb, serves one. The judges said:
A good firm bite to the macaroni, mature cheese, the flour has been cooked out well and the overall waves of cheese come through – homely, satisfying yet also has a level of sophistication about this – a well made thing!

Booths Tandoori Chicken Biryani, 350g £3.30 – 1 Star
A Persian spiced basmati rice and onion dish with creamy spiced tomato sauce, to serve one. The judges said:
Very tasty and good sized pieces of chicken. Pleasant heat to the sauce and a good balance.

Booths Bread & Butter Pudding, 500g £3.50 – 2 Stars
Specially made for us, our bread and butter pudding consists of sweet, buttery brioche sprinkled with juicy raisins, covered with apricot glaze and layered with lashings of creamy Madagascan vanilla egg custard. The judges say:
Top suitably crisp with a bit of chewiness to it, fabulous wobbly custard. Brioche not soggy in any way, excellent texture.
No soggy pud here!

Booths Sticky Toffee Pudding, 400g £3.75 – 1 star
Specially made for us, this consists of rich, buttery sponge pudding with juicy dates, topped with sticky toffee sauce. The judges said:
Pleasantly surprised at how light this pudding is. Good butteriness and clean date and toffee notes.
Booths Oven Roasted Rosemary & Sea Salt Almonds, 150g £3.10 – 1 Star
The judges said:
These look a treat, a slight glaze incorporating the specks of rosemary and salt makes these extremely appealing. Consistent good size, plump nuts with a true flavour of the almonds.
Available at Christmas only, we have:

Booths Mini Christmas pudding Cheesecake Bites – 1 Star
Handmade for Booths, spiced biscuit crumb topped with a baked cheesecake topping flavoured with a rich fruity Christmas pudding and decorated dark chocolate and a gold shimmer. The judges said:
A good crunchy base, moist cheesecake topping and fruit – the combination is quite unexpected! Almost a sweetmeat, perhaps a pudd, certainly a treat.

Booths Blue Cow Pie – 1 Star
Shortcrust pastry filled with British beef and button mushrooms in a rich beef and Garstang blue cheese gravy, finished with a puff pastry lid. A proper Northern pie made in Lancashire. The judges said:
Great looking pie. Handmade appearance. Cuts really well, puff pastry crackling under the knife. Pastry is a triumph, crispy top and bottom. Beef is tender and the mushrooms too. Blue cheese flavour is at a good level. Well seasoned and generous with the gravy.
Please be aware that some products will only be available in larger stores – if you're travelling for a particular product, we'd recommend ringing ahead to check it's available in your store of choice – we'd love to hear from you!