You'll Fall for our Autumn Cheeses
Written on September 22nd, 2017
---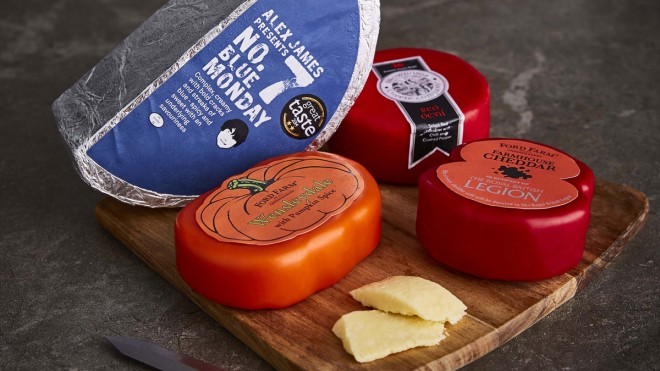 As the nights draw in and Autumn is officially here, we've brought a new range of Autumnal cheeses to our cheese counters. You've heard of pumpkin spice lattes – we say bring on the pumpkin spice Wensleydale!
New Autumnal cheeses available from your cheesemonger now:
Snowdonia Red Devil
'Red Devil Cheese' infused with red chillies and crushed pepper, aptly named Red Devil, for its devilishly fiery kick. There is a beautiful balance to be found in this cheese, moist cheesiness with the added heat of chilli, leaving a watery mouth that doesn't overwhelm the cheese or last too long. Red Devil, with its fierce spicy tang, makes a perfect party cheese or can be enjoyed on its own. If you're not a great heat lover, then coupling Red Devil cheese with a Rioja or glass of beer can help to cut through the spice, as will a sweet fig relish or chutney.
Brie with Green Peppercorns
This cheese features a velvety consistency with a spicy flavour. Each green pepper, with a pure, fresh pepper flavour and a fiery sharpness adds a spicy, sweet undertone to this exotic cheese. A double-cream soft-ripened cheese with whole green peppercorns, made with pasteurised cow's milk. Suitable for vegetarians.
Scooping Gorgonzola
Characterized by an exceptional degree of creaminess, this version evokes the way Gorgonzola was once eaten and enjoyed in the Padana Valley area: a cheese so soft it must be served with a spoon. It is sold in a bowl-shaped container with a specially designed lid to protect it from the air. Sweet and buttery on the palate, it melts in your mouth.
Alex James Blue Monday
Alex James from Blur named this cheese after his favourite New Order song but there is absolutely nothing that will make you unhappy about this masterpiece. Another 'Alex James Presents…' cheese, Blue Monday is complex and creamy with bold cracks and streaks of blue – spicy, steely and sweet.
Ford Farm Cheddar
With 50p from every cheddar sold being donated to The Royal British Legion, Ford Farm has helped to raise over 8.5k through sales of the poppy shaped cheddar. Form Farm came up with the idea to create cheddars in the shape of the Royal British Legion Poppy last year. The cheddars contain 170g of Ford Farm's award winning West Country Farmhouse Cheddar.
Ford Farm Pumpkin Spice Wensleydale
Take a creamy young Wensleydale and combine it with a generous sprinkle of a blend of warm and aromatic spices reminiscent of Halloween – cinnamon, nutmeg, cloves and all spice. The result is a cheese that is deliciously sweet and fragrant, with a long, lingering finish, and which makes a perfect additional to the Autumnal Cheeseboard.