Burscough
The new store results in the creation of over 80 new jobs in the region and offers a complete shopping experience for customers who can purchase all their groceries, fresh produce, beer, wines and spirits in one place.
It contains fresh counters, including a butcher, fishmonger, delicatessen, hot food and cheesemonger. There will be some added extras in store too, such as hand carved smoked salmon and fresh pasta made fresh in store every day.
Booths is renowned for its artisan quality and sourcing fresh, seasonal produce and its fresh food counters will be pride of place in store. Many shoppers choose Booths for its unrivalled selection of local produce and Booths Burscough will be no different with an abundance of local produce suppliers close by. The new store is perfectly placed to take advantage of suppliers from all of our 4 regions – Lancashire, Yorkshire, Cumbria and Cheshire. Booths Burscough also features an attractive café serving a delicious range of cakes, drinks and snacks.
The store is built on the original site of HMS Ringtail.
Richard Ford has been appointed as store manager of Booths Burscough, and with his team, looks forward to welcoming you at your new store.
In Store Facilities
Bakery
Booths Café
Butcher
Cafe
Cheesemonger
Delicatessen
Fishmonger
Hot Food
Juice Bar
Lottery
Olive Bar
Blog & Latest News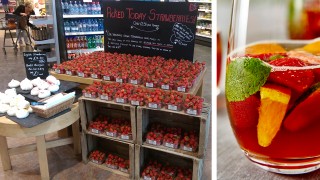 Written on June 29th, 2016
---
Did you know the tradition of enjoying strawberries and cream at Wimbledon dates back to 1877? Last year, 140,000 portions of English strawberries were served at the grand slam event so there's no … Read More